Macron escalates war on the Yellow Vests
Submitted by gjohnsit on Wed, 01/09/2019 - 4:49pm
Putin is a brutal dictator that suppresses political dissent.
Macron is a freedom-loving, neoliberal, wonderkid.
At least that was the way it was pitched until yesterday.

The main points of that measure, for which Philippe voiced support, would allow the police to search the personal effects of people about to attend a demonstration; ban persons known to the police as violent from attending protests, the way soccer hooligans on police lists are kept out of stadiums; and toughen the punishment for covering one's face while protesting from a mere fine to, potentially, a year in prison.
...
Not even in Russia, however, can police simply put someone on a list of people banned from public protests. And covering one's face, even during a protest that has turned violent and resulted in damage to people and property, is punishable only by a maximum fine of 300,000 rubles ($4,500) and 20 days' arrest. The French proposal – a 15,000 euro ($17,200) fine and a year in prison – is harsher.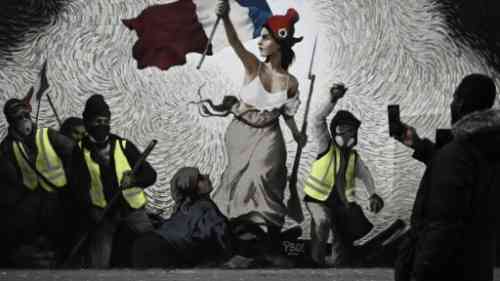 French police already arrested one of the protest leaders, truck driver Eric Drouet, last week for organising an unauthorised demonstration in Paris.
This new crackdown on political activism has gotten interesting responses.

Laurent Wauquiez, leader of the Republican party, tweeted that the move was not enough because it would not take "immediate effect". He said his party had previously proposed a state of emergency, adding: "Why not listen to us, at the risk of seeing the situation worsen Saturday after Saturday?"
Meanwhile left-wing leader Jean-Luc Mélenchon said the planned measures would mean that "demonstrators can no longer demonstrate".
So "Republicans" are against commoners protesting, while communists aren't.
Inside the French government the response was predictable.

"I would like all of those who believe in democracy, in the sovereign representation of the French people to come together and say 'enough,'" French Finance Minister Bruno Le Maire said Sunday.
Those who believe in democracy should shut the Hell up!
Chantal Jouanno, the official appointed by the French government to lead a national debate over the grievances raised by so-called "Yellow Vest" protesters quit on Tuesday after a news magazine revealed she was paid 14,700 euros ($16,800) per month.
So why this increasingly harsh crackdown on dissent?
Because the Yellow Vests are increasingly class aware.

One of the yellow vests' first goals is the reimposition of France's wealth tax. Last year, Mr. Macron scaled it back to cover only real estate, hoping that leaving more money in the pockets of the wealthy would boost investment. But the move, combined with his plans to raise fuel taxes, solidified the perception among the yellow vests that his policies rewarded the wealthy and punished the working class.
And then yesterday the Yellow Vests crossed the line by threatening the fictional wealth of the very rich.

Activists from a French protest movement encouraged supporters Wednesday to set off a bank run by emptying their accounts, while the government urged citizens to express their discontent in a national debate instead of weekly demonstrations disrupting the streets of Paris.

Activists from the yellow vest movement, which started with protests over fuel tax increases, recommended the massive cash withdrawals on social media. One protester, Maxime Nicolle called it the "tax collector's referendum."

"We are going to get our bread back ... You're making money with our dough, and we're fed up," Nicolle said in a video message.

The movement's adherents said they hoped the banking action will force the French government to heed their demands, especially giving citizens the right to propose and vote on new laws.
If only Americans were this aware and engaged.