Viva la Revolucion!
Submitted by

QMS

on Tue, 11/20/2018 - 5:00am
Mexico Revolution Day
Amilliano Zapata
~
Today marks the historical beginning of the the Mexican Revolution which began in 1910 and lasted about 10 years. An example of the people rising up against a dictatorial ruler, with many twists and turns, eventually bringing a better form of social justice thru a new constitution... the constitution of 1917, which conferred dictatorial powers on the president but gave the government the right to confiscate land from wealthy landowners, guaranteed workers' rights, and limited the rights of the Roman Catholic Church. But then, the revolution committed the resulting political regime with "social justice", until Mexico underwent a neoliberal reform process that started in the 1980s (US and UK also). Let's hope AMLO continues the fight.
(Re) written history varies. One consequence of this peoples revolution, was a concurrent uprising in countries to the south of Mexico during that decade. Paraguay, Ecuador, Honduras, Argentina and Chile all saw peoples upheavals. To say nothing about Russia. Odd the CIA has taken such an interest in their civil affairs?
The practice of having a national parade for this occasion has recently changed. Too many demonstrations have forced the authorities to alter the schedule. It is left to the various states now with a dispersed resistance as consequence.
~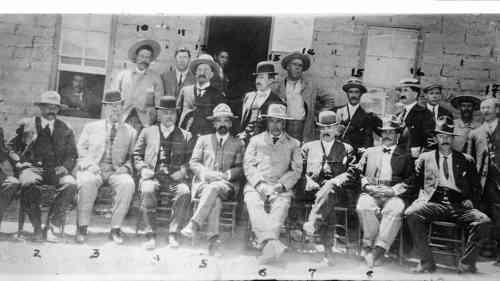 The revolutionary leaders of 1910 including Pancho Villa (#10), Francisco Madero (#5) & José Venustiano Carranza Garza (#3)
~
Which brings to mind more folks demonstrating against the imperial boot. Tianamin Square, Arab Spring, BLM, DAPL and Occupy have similar roots.
~
If anyone has a Mexican Revolution song to post or a quotable, that would be great. Take a Tequila and hide a cactus under your sombrero. Viva La Revolution!
~
Credits...
http://www.bajainsider.com/article/revolution-day-mexico-november-20
https://en.wikipedia.org/wiki/Revolution_Day_(Mexico)
https://www.britannica.com/place/Latin-America/New-order-emerging-1910-4...
https://www.inside-mexico.com/november-20/
~