The Union of Establishment Republicans and Establishment Democrats
Submitted by

gjohnsit

on Fri, 08/24/2018 - 4:42pm
It began in 2016, when neconservative war criminals formed an alliance with warmongering Democrats.

Illustrative of their emerging alliance, as Glenn Greenwald reports, is yet another Beltway foreign policy initiative: the Alliance for Securing Democracy....The Alliance's advisory council includes Jake Sullivan, Clinton's foreign policy adviser, and Mike Morell, acting CIA director under Obama. They sit comfortably with Kristol, Mike Chertoff, homeland security secretary under Bush, and hawkish former Republican congressman Mike Rogers. With a record of catastrophic foreign policy fiascoes, the establishment comes together to strike back.
It turns out that this was only the beginning.
The common enemy here was Russia, and one method of unity is the Renew Democracy Initiative (RDI).

A group of neocon heartthrobs have banded together with an eclectic array of Russiagaters to form a visionary organization committed to protecting Western democracy....
Celebrated war cheerleader Max Boot, who serves on RDI's board of directors, announced the creation of this highly original organization in a Washington Post op-ed.
... Unlike the dozens of other well-financed bastions of status-quo thinking, RDI aims to "unite both the center-left and center-right" by promoting "liberty, democracy and sanity in an age of discord."
Also on RDI's board of directors is WaPost writer Anne Applebaum who once wrote an op-ed entitled "Should We Assassinate Saddam?"
The organization's president, Richard Hurowitz, is a member of the warmongering Council on Foreign Relations.
In 2018 a new alliance formed, this time between neoconservatives and neoliberals.

For several months, an alliance has been forming between the neoconservative American Enterprise Institute (AEI) and the neoliberal Center for American Progress (CAP). It's the sort of kumbaya not witnessed since wartime Washington a decade ago.

A press release from CAP on May 10 blares: "CAP and AEI Team up to Defend Democracy and Transatlantic Partnership." The same joyous tidings accompanied a public statement issued by AEI on July 31, which stressed that the alliance was meant to resist "the populist assault on the transatlantic community" for the purpose of "defending democracy."
It's hard to tell what they mean when they say "democracy", but it's virtually certain that it isn't in the dictionary.
There's something pathetic and ironic about neconservatives and neoliberals joining forces to defend "democracy" when they are the biggest threats to democracy.
Now we have mainstream conservatives openly cheering for the Democrats in November.

Nor is Boot alone among neocon Never-Trumpers. Syndicated columnist George Will, who left the GOP after the election of Trump, is also agitating for a Democratic congressional takeover...

Another former Republican, MSNBC commentator and onetime congressman Joe Scarborough (also a current member of the Council on Foreign Relations), has set the standard for anti-Trump animus. His colleague at MSNBC, former GOP congressman and McCain presidential campaign chair Steve Schmidt, is yet another fiery Trump detractor rooting for the Dems.
This union of evil and evil comes from the Dems as well.
For instance, liberals new found love of warmonger John McCain.

Forty-four percent of Republicans surveyed in the Wall Street Journal/NBC News poll released Wednesday hold a negative view of McCain, while only 35 percent have a positive view of him. Meanwhile, 52 percent of Democrats surveyed now see him in a positive light.
When did so many liberals become worthless, pieces of shit?

The press and liberal groups gushed, and hundreds of headlines approvingly quoted the former president. "Why you should listen when George W. Bush defends the media," declared a headline at the Washington Post. "George W Bush: a welcome return," raved the Guardian, which went so far as to call him a "paragon of virtue." The leftist site ThinkProgress ran a blog post titled "George W. Bush defends the Constitution to rebuke Trump."
"Paragon of virtue"? Has everyone forgotten that he's a war criminal?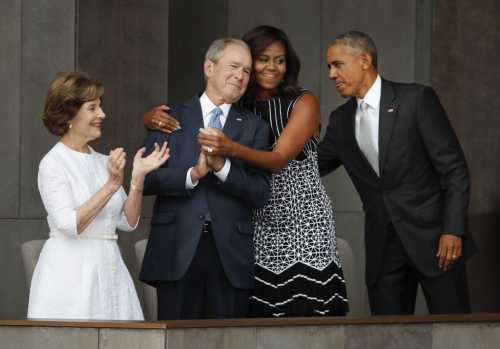 George W. Bush: hero of the left.

Strange times.

— Rick Hasen (@rickhasen) February 27, 2017
Other establishment Republicans now backing establishment Democrats include:
Pete Wehner (former deputy speechwriter for President George W. Bush)
GOP strategist Steve Schmidt (a presidential campaign advisor for George W. Bush in 2004 and Sen. John McCain in 2008)
Right-wing journalist John Ziegler
David Jolly (who represented Florida in the U.S. House of Representatives from 2014-2017)