Poor Peoples Campaign in DC today
Submitted by

Lookout

on Sat, 06/23/2018 - 3:54pm
I had hoped to be in DC today, but here's the next best thing. Our bus broke down before it arrived for us to load up. Of course that's much better than breaking down on the way...or the way back. Perhaps I saw more of the event from home online. It lasts three hours hours. I know that's too long for most folks. Just catch Rev. Barbers speech at 1 hour 20 minutes to get the gist. I'm curious if you think this is the movement we've been hoping for. It inspires me.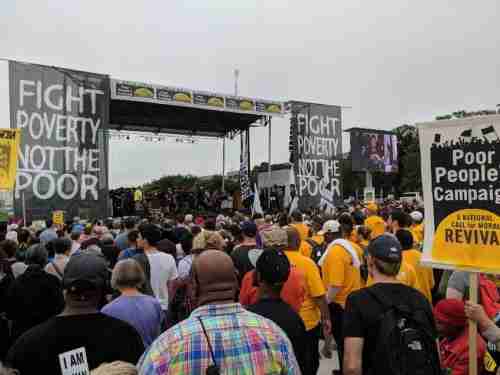 LIVE from the National Mall in Washington, D.C. our #40DaysOfAction culminates in a Mass Rally & March featuring our campaign co-chairs the Rev. Dr. Liz Theoharis and the Rev. Dr. William J. Barber, II alongside members of the #PoorPeoplesCampaign from across the country.
In the face of systemic racism, systemic poverty, ecological devastation, the war economy/militarism, and the distorted moral narrative of religious nationalism, we must engage in mass nonviolent moral direct action. We must have mass voter registration and mobilization. And we must engage in mass power building in poor and low wealth communities declaring "We Won't Be Silent Anymore!"
This is just the beginning. Join the campaign in your state as we continue to mobilize at www.poorpeoplescampaign.org .
It was all good to me but I really recommend Rev Barbers speech at about an hour and 20 min.
Fast forward to 10 min or so to get to the program.
Click on the image (or link) below to go to the rally...
https://www.facebook.com/anewppc/videos/1735225803240254/