And so it continues ...
Submitted by

Eagles92

on Wed, 05/23/2018 - 3:21pm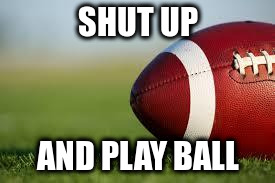 ESPN: NFL owners pass new National Anthem policy
The policy subjects teams to a fine if a player or any other team personnel do not show respect for the anthem. That includes any attempt to sit or kneel, as dozens of players have done during the past two seasons to protest racial inequality and police brutality. Those teams also will have the option to fine any team personnel, including players, for the infraction.
Apparently, according to commissioner asshat Goodell,* players and personnel have "choices" to remain in the locker room and not be fined. But who among us believes that won't result in different consequences?
Another day, another assault on our First Amendment Rights. Can we entice Wayne-o away from the Second, so he can lobby on our behalf?
*(How does this tool still even have a job? Oh, right, he's the epitome of "failing up.").