America is Falling Behind in Renewable Energy, & That Makes Us Dangerous
Submitted by Steven D on Wed, 04/18/2018 - 1:52pm
Republicans say we don't need renewable energy. Establishment Dems make noises they care about our dependence on dirty fossil fuels, but Clinton and Obama both promoted natural gas (and thus increased fracking) as a bridge fuel to the future. Meanwhile, the rest of the world is rapidly moving toward a green energy grid.
In this past March, Portugal not only generated enough electricity from renewables to power the whole country for the whole month, it actually produced extra electricity this way. Portugal is constructing an underwater cable to export green electricity to Morocco, and hopes to strengthen the links of its grid to Spain and France. But the important thing is that Portugal, a country of over 10 million people, may soon regularly avoid burning fossil fuels for making electricity nationally. 100% renewables are becoming normal.
Portugal is a poor country compared to most of the rest of Europe. It ranks 46th internationally, and its GDP of $199 Billion is dwarfed by the US, with its 18 Trillion dollar economy. But Portugal is not alone. Scotland received "68.1 percent of its electricity from renewables last year." Costa Rica had 300 days where it relied solely on renewable energy in 2017. Overall, the world is investing in renewable energy at an ever increasing rate. For example ... the world invested more in solar energy than in coal, gas, and nuclear combined last year."
Global investment in renewable energy shot up last year, far outstripping investment in fossil fuels, according to a UN report.

As the price of clean energy technology plummets, it has become an increasingly attractive prospect for world governments.

China was by far the world's largest investor in renewable energy in 2017, accounting for nearly half of the new infrastructure commissioned. [...]

The global replacement of traditional fuels with renewables led to around 1.8 gigatonnes of carbon dioxide emissions being avoided last year – the equivalent of removing the entire US transport system.

"The extraordinary surge in solar investment around the world shows how much can be achieved when we commit to growth without harming the environment," said the head of UN Environment, Erik Solheim.
Unfortunately, US investment in renewable energy is not keeping pace with our biggest economic rival, China, who is outspending America by a factor of 3:1, even though China's GDP is roughly 60 percent of America's GDP. China increased ther investments in renewable energy by 30% in 2017. The US?
Imagine if we committed to a Manhattan-style infrastructure project over the next five to ten years to research, develop and install renewable energy in order to to upgrade our current outdated energy grid? The return on that investment would be astronomical, and the benefits would not just be economic in nature. A reduction in greenhouse gas emissions is one obvious result, but even more important, our need to intervene in other parts of the world to secure the continued flow of fossil fuels would be much reduced. In short, our foreign policy would not require the substantial drain on our economy and our military that the never-ending wars in the Middle East and elsewhere have produced.
And what's standing in the way of this? Only the fact that both our major parties are beholden to Big Oil and Big Coal to finance their political campaigns. Nor should we forget that our corporate media is heavily dependent on ad buys by big oil companies like Exxon, Shell, BP and Chevron. In Colorado between 2012-2015, Big Oil contributed $80 Million.
Take a look at these two graphs. The first shows Big Oil's political contributions beween 1990 and 2018 (to date):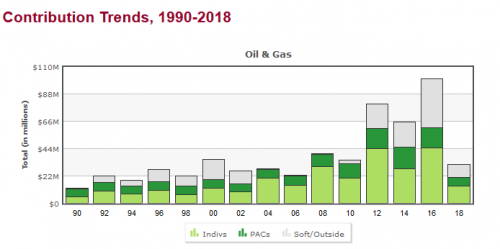 Now here is what the largest Big Oil companies spent on lobbyists in 2017:
Is anyone surprised by this? I'm not. We've seen the effects as well. A nation desperately in need of eliminating fossil fuels in order to save the American economy, and a planet that requires immediate action to limit the consequences of human induced climate change, has been consistently failed by the US government. Our politicians, both Republicans and Democrats, are in thrall to the large fossil fuel energy corporations and do their bidding, well aware of the short and long term consequences for the security of our country and the world.
Looking at this data, I conclude that the sooner the American Empire falls the better, for both our people and the planet. Right now we have the largest military in the world by a substantial margin, and it's fighting numerous resource wars for the sole purpose of sustaining an unsustainable economic model based on keeping our country and the world reliant on oil, gas and coal for its energy needs.
Our government is currently setting the stage for more famines, floods, droughts, disease and war all to benefit "allies" like the despots in Saudi Arabia and mega-corporations in the business of fossil fuel extraction and production, as well as financial institutions that profit from investments in this sector. Until we throw off the political shackles of these plutocrats, America is and will continue to be the greatest threat to human survival in both the near and long term.