The Hypocrisy and Phoniness of the #McResistance on full display
Submitted by

gjohnsit

on Fri, 01/12/2018 - 1:18pm
The House passed a renewal of Section 702 of the 2008 FISA Amendments Act yesterday, the same section that Snowden blew the whistle on in 2013, but they made it even worse.

In 2013, Edward Snowden revealed that the National Security Agency was legally collecting millions of Americans' phone calls and electronic communications—including emails, Facebook messages, and browsing histories—without a warrant. Congress has now decided not only to reauthorize these programs, but also to expand some of their most invasive techniques.
... In April, the NSA halted one kind of surveillance authorized under Section 702, referred to as so-called "about" collection. It stopped amassing conversations concerning foreign targets, but that weren't from the targets themselves.
But the bill newly passed by Congress opens the door to reintroducing about collection in emergency situations only—though what constitutes an "emergency" isn't specified, leaving room for broad interpretation.
Trump, after opposing this bill came out in favor of it.
So it seems an obvious move for Democrats that hate Trump and call him a "traitor" would oppose giving him enhanced domestic spying powers, right?
After all, aiding a known traitor is treason, right?

Leading the charge against reforms of the FBI's domestic spying powers was Rep. Adam Schiff of California, the ranking member of the House Intelligence Committee who, in countless TV appearances, has strongly insinuated, if not outright stated, that Trump is controlled by and loyal to Russian President Vladimir Putin.

Indeed, just this weekend, in an interview with CNN's Jake Tapper, Schiff accused Trump of corruptly abusing the powers of the DOJ and FBI in order to vindictively punish Hilary Clinton and other political enemies. Referring to Trump's various corrupt acts, Schiff pronounced: "We ought to be thinking in Congress, Democrats and Republicans alike, beyond these three years what damage may be done to the institutions of our democracy. "

Yet just two days later, there was the very same Adam Schiff, on the House floor, dismissing the need for real safeguards on the ability of Trump's FBI to spy on Americans. In demanding rejection of the warrant requirement safeguard, Schiff channeled Dick Cheney — and the Trump White House — in warning that any warrant requirements would constitute "a crippling requirement in national security and terrorism cases."

Standing with Schiff in opposing these safeguards was his fellow California Democrat Eric Swalwell, who has devoted his entire congressional term almost exclusively to accusing Trump of being a puppet of the Kremlin, in the process becoming a media darling among the MSNBC set and online #Resistance movement. Yet after spending a full year warning that Trump's real loyalty was to Moscow rather than America, Swalwell echoed Schiff in demanding that no warrant safeguards were needed on the spying power of Trump's FBI.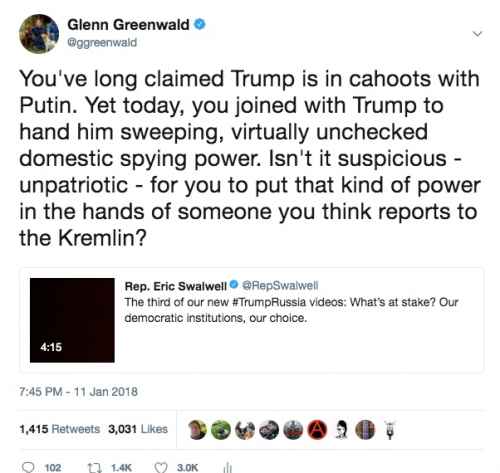 How could one not see this and conclude that #Resistance is nothing other than SOP of Machiavellian politics?
Guess who was also with Schiff and Swalwell in defending Trump's warrantless domestic spying ability?

Joining the pro-surveillance coalition led by Trump, Paul Ryan, Devin Nunes, Schiff, and Swalwell was the House's liberal icon and senior Democrat, Nancy Pelosi. The San Francisco Democrat also stood on the House floor and offered a vigorous defense of the Trump-endorsed bill that would extend to Trump's FBI the power to spy on Americans without warrants, in the process denouncing the minimal warrant safeguards favored by many in her own party. Pelosi's speech earned praise from GOP House Speaker Paul Ryan: "I want to thank [Pelosi] for coming up and speaking against the Amash amendment, and in favor of the underlying bipartisan [bill].
...While 125 Democratic House members were joined by 58 GOP members in voting for these reforms, 55 Democrats — led by Pelosi and Schiff — joined with the GOP majority to reject them, ensuring defeat of Amash's amendment by a mere 26 votes.
"The House just passed a bill to give the Trump administration greater authority to spy on Americans, immigrants, journalists, dissidents, and everyone else."
- ACLU
"The House just approved the disastrous NSA surveillance extension bill that will allow for continued, unconstitutional surveillance that hurts the American people and violates our Fourth Amendment rights."
- Electronic Frontier Foundation
"This Section 702 bill would give AG Jeff Sessions unchecked power to use this information against Americans. This bill prevents his decisions from EVER being challenged in court."
- Sen. Ron Wyden
When @justinamash & @VoteMeadows, chair of the freedom caucus, vote against surveillance, but scores of Democrats vote for it, then its fair to ask what does our party stand for? If we can't be unified around the principle of civil liberties, then what is the soul of our party?

— Ro Khanna (@RoKhanna) January 11, 2018