Diana Moon Glampers
Submitted by jabney on Thu, 09/28/2017 - 9:54pm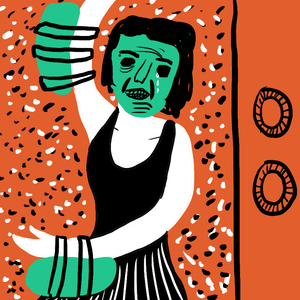 Diana Moon Glampers knows that you are important. Diana Moon Glampers knows that I'm just as important.
In the short story, Harrison Bergeron, by Kurt Vonnegut (first published in 1961, in The Magazine of Fantasy and Science Fiction), the theme reminded me of an even shorter story that I read in Colliers.
The story in Colliers didn't have characters like Diana Moon Glampers. Colliers didn't have that much room. It was a magazine. And in our family, Colliers might have been displayed on the coffee table, but we didn't have a table dedicated to coffee. That was allowed only to the grown-ups. I was allowed to read magazines written for grown-ups though - found on one of the side tables. Where I could put my glass of iced tea. And I was probably the one to carry the tied bundles of old magazines to the Boy Scout's paper collection. Including old copies of Colliers. So that particular copy of Colliers disappeared long ago. As did the name of the story. But story itself has remained in my brain.
If you know the name of that story, please tell me.
Fortunately (or unfortunately, if you must), reading Harrison Bergeron will suffice. I don't think I read Harrison Bergeron in 1961. And as far as 1968, when Harrison Bergeron was included as part of, Vonnegut's Welcome to the Monkey House, well - who remembers much of 1968? I found it on YouTube read by Jordan B Peterson in, "The Disability Bureaucracy Wants Your Soul.[video:https://youtu.be/q0k-BPI2IQA]..." (Note: the Vonnegut story starts at 5:40, listening to the rest of the clip is up to you.)
((Note 2 - How can I get the closing " after the video moved up? Looks untidy.))