The Good News about white people dying young
Submitted by gjohnsit on Fri, 08/18/2017 - 11:21pm
A few months ago I posted an essay about how a study showing that the mortality rate for poor white people was increasing at an alarming rate, and that some people were, uh, shall we say, amused by it.
Well, it turns out that the researchers were professionally attacked for the study. They weren't attacked for making any errors.

Deaton: Anne presented the first paper once and was told, in no uncertain terms: How dare you work on whites.

Case: I was really beaten up.

Deaton: And these were really senior people.

Case: Very senior people.
You would think that identity politics and racial stereotypes about whites would take a back seat in the world of science, but you would assume wrong.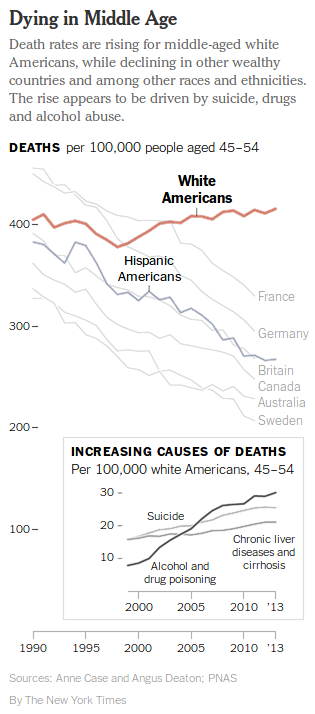 Fortunately there is the financial news.
Good News! White people are dropping like flies, and that's GREAT for profits!

In 2015, the American death rate—the age-adjusted share of Americans dying—rose slightly for the first time since 1999. And over the last two years, at least 12 large companies, from Verizon to General Motors, have said recent slips in mortality improvement have led them to reduce their estimates for how much they could owe retirees by upward of a combined $9.7 billion, according to a Bloomberg analysis of company filings. "Revised assumptions indicating a shortened longevity," for instance, led Lockheed Martin to adjust its estimated retirement obligations downward by a total of about $1.6 billion for 2015 and 2016, it said in its most recent annual report.
You see, by dying early you will allow super-rich shareholders to get more wealthy.
Doesn't that make you want to eat a bullet for the team?
Now some of you might think be tempted to think outside of racial stereotypes and actually care what that might mean to, you know, actual human beings.

Absent a war or an epidemic, it's unusual and alarming for life expectancies in developed countries to stop improving, let alone to worsen. "Mortality is sort of the tip of the iceberg," says Laudan Aron, a demographer and senior fellow at the Urban Institute. "It really is a reflection of a lot of underlying conditions of life." The falling trajectory of American life expectancies, especially when compared to those in some other wealthy countries, should be "as urgent a national issue as any other that's on our national agenda," she says. ...The broader trend isn't unique to the U.S. A July publication from the Institute and Faculty of Actuaries in the United Kingdom found that the U.S., Canada, and Britain have all experienced similarly slowing gains since 2011. That report suggested the combination of the recession and cuts to social safety-net programs may have played a role. "These signs should be taken as warnings that worsened health care, behaviour and environment can reverse decades of success in health and longevity," wrote Joseph Lu, chair of the Institute's mortality research committee.
It got me thinking.
Companies make profits for killing people in pointless wars.
Companies make profits for giving people long prison terms for minor crimes.
Companies make profits from denying people needed health care.
Companies have bigger profits if you drop dead.
I'm thinking I might not be paranoid.