The World is Being Played
Submitted by

snoopydawg

on Fri, 02/08/2019 - 9:15pm
First off let's look at this picture. On most sites that show it you see this caption;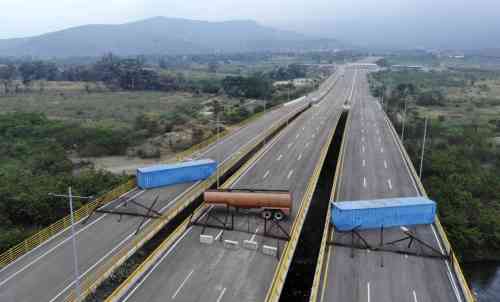 The Tienditas bridge connecting Colombia and Venezuela has been blocked by Venezuelan military forces, as seen here on Wednesday.
Or in other words:
Or how to turn an unopened bridge into an international news story to build support for your coup
The photo depicts Tienditas International Bridge, blocked by a fence, a few concrete blocks, two containers and an oil tanker. This photo along with Pompeo's words paint an image of Maduro as a mad dictator who does not care about the people of his country, and is willing to shut down and blockade a huge six-lane highway in order to stop them eating.

CNN reported:

The Venezuelan government, led by embattled President Nicolas Maduro, has blocked a bridge connecting Venezuela to Colombia, according to Colombian officials and a CNN photojournalist at the scene.
What is wrong with these reports? What have they left out?
Let's look again at that image again with a little scepticism…

Let's assume that Venezuela did indeed place the containers where they are. The photo was taken from Colombia, looking into Venezuela.
There's something that doesn't add up. It looks like the fence, in front of the containers, was erected by Colombia. The fence supports are on the Colombian side, and four concrete blocks also sit on the Colombian side of the fence. So was the bridge really blocked by Venezuela, or was it actually blocked by Colombia?

Luckily, we can view Tienditas bridge on Google Maps:
The photo was uploaded in June 2017. Tienditas Bridge, reported throughout the media as blocked by Venezuela this week, has in fact been blocked for at least 18 months!

It was concluded in early 2016, but due to the crisis between Venezuela and Colombia in 2015 and the border closure of Venezuela the bridge has not been officially opened.

So is the media lying to us? Is there not one mainstream journalist who bothers to do research any more? I suspect a combination of the two:

- Every news organisation takes a journalistic position which is in some way biased, but mostly aligned with the propaganda the US government is putting out.

- The 24-hour news cycle leaves little time for the journalists to put in the necessary research to verify the facts they are publishing.

It's a sad state of affairs. I feel I can no longer trust anything I read in the media, and have to verify everything myself. In this case, there was enough information available online to do that and find the errors and omissions, but that usually isn't feasible. It's certainly not how I want to spend my time. I'm not a journalist.
Hmm. I'm wondering if the containers are actually there or have they been photoshopped into this picture? Were they airlifted on to the road? Look closely at how the containers barely fit inside the lanes. No truck delivered any of them nor could one have left the oiler there. Nope. No way, no how.