What's good for the goose is good for the gander
Submitted by gjohnsit on Wed, 03/29/2017 - 9:12pm
As you are probably aware, your internet privacy is about to be destroyed in the name of a quick buck.

The US House of Representatives has just approved a "congressional disapproval" vote of privacy rules, which gives your ISP the right to sell your internet history to the highest bidder.
The measure passed by 215 votes to 205.
This follows the same vote in the Senate last week. Just prior to the vote, a White House spokesman said the president supported the bill, meaning that the decision will soon become law.
This approval means that whoever you pay to provide you with internet access – Comcast, AT&T, Time Warner Cable, etc – will be able to sell everything they know about your use of the internet to third parties without requiring your approval and without even informing you.
Your ISP already knows quite a lot about you: your name and address, quite possibly your age, and a host of other personally identifiable information such as your social security number. That's on the customer information side. On the service side, they know which websites you visit, when, and how often.
It's going to be very hard keeping even a small semblance of online privacy.
Congress sold your privacy for very little.

In the Senate, John Thune (R-South Dakota) received the most money from the telecommunications industry, with over $215,000 in donations from industry PACs and employees. Senator John Kennedy (R-Louisiana) sold out for the least, voting to kill internet privacy rules for just $1,000 in donations. It's also important to note that Sen. Luther Strange (R-Alabama) received $0 in campaign donations, as he was recently appointed by Alabama Governor Robert Bentley to replace Sen. Jeff Sessions after he was appointed Trump's Attorney General.

In the House, Rep. Greg Walden (R-Oregon) is the favorite of the telecom industry, with over $155,000 in donations in the most recent election cycle. Rep. Clay Higgins (R-Louisiana) sold out to the industry for a paltry $300.
That why I was so amused when I ran across this.

Help me raise money to buy the histories of those who took away your right to privacy for just thousands of dollars from telephone and ISPs. Your private data will be bought and sold to marketing companies, law enforcement.

Let's turn the tables. Let's buy THEIR history and make it available.
It's a brilliant idea. Only by violating the privacy of congresspersons will they understand and respect what they are doing to the rest of us.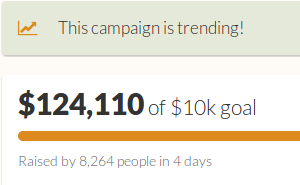 Don't like that one. Here's another site.

Other gofund sites are being created.

The website searchinternethistory.com is attempting to raise $1 million in order to put in bids to purchase the internet history of leading Republicans and Federal Communications Commission (FCC) members. The first histories the site aims to buy are those of Senate Majority Leader Mitch McConnell (R-Kentucky), House Speaker Paul Ryan (R-Wisconsin), Congresswoman Marsha Blackburn (R-Tennessee), and FCC Chairman Ajit Pai.
Max Temkin, Cards against humanity creator, has offered to use his wealth to buy it.
@MaxTemkin guys, there's not going to be a fucking Kickstarter. If and when the data is available, we'll buy it and publish it publicly.

— Max Temkin (@MaxTemkin) March 28, 2017
@nickkokonas IP blocks of congressmen and congressional staffers are known, see @congressedits

— Max Temkin (@MaxTemkin) March 28, 2017
As for keeping some privacy, there is really only one way left now - TOR.
If you care about your privacy, it's time to start using it.