The Weekly Watch
Submitted by Lookout on Sun, 09/13/2020 - 7:44am
Unspoken Truths and Damn Lies
"We'll know our disinformation program is complete when everything the American public believes is false." 1981 Former CIA Director William Casey
The powers that be (TPTB) don't want truth spoken nor understood. The kangaroo trial of Julian makes it obvious. And of course the main stream media (MSM) isn't going to inform the citizenry...just the opposite...it will be unspoken. Consortium News is a go to outlet for updates.
The New York Times did not deem it fit to print an article on Tuesday about the resumption of Julian Assange's extradition hearing after a seven-month delay because of the pandemic. It only ran a story online that could not be found by scrolling down the page. One had to put "Julian Assange" in the search engine to find it.

Instead the dispatch from London that appeared in print editions was about the city's bridges "which are really falling down." It is unlikely the Times will provide day two coverage, or any coverage at all until the verdict comes down on whether Assange will be extradited to the United States.

The Washington Post tucked a FAQ about Assange at the very bottom of its web page, and published a piece at the bottom of the last page of its World News section about Prof. Mark Feldstein testifying for Assange, because he is a local from the University of Maryland.
a song for Julian Assange
like a movie
flickering in blue and grey
like a movie
you can't take your eyes away
1.
here's a man in the nose of a beast
a magic camera on his eye
they're not men he sees before him
just pixels floating by
his eyes narrow on the target
his finger is the boss
seven men go to the dust they came from
underneath his cross
like a movie
2.
and here's a man on an aeroplane
his eyes are warm, his eyes are closed
weary from too much seeing,
from 10 years on this road
they took his son, they took his freedom
took away his space to think
they took his walls and moved them closer
they pushed him to the brink
like a movie
flickering in blue and grey
like a movie
betrayal's only one frame away
3.
and here's a hawk, in front of an eagle
three colours tattooed on it's chest
his eyes are flint, his heart is granite
cos uncle knows what's best
there's talk of a man who's said too much
talk of a man who's sealed his fate
talk of a bounty for the one who brings
his head upon a plate
like a movie
4.
and now here's a man in a tiny cell
his tired face is gaunt and pale
he walks ten thousand steps each day
the santiago trail
his hair is white, the spider's eyes were black
the mighty web was a thing of awe
he went in deep, he couldn't come back
but he showed us what he saw
like a movie
flickering in blue and grey
like a movie
dignity will hold no sway
and when the dawn breaks, and the mist clears
you can watch the final scene, if you dare
one man in front of an army, all alone
and his man, what's he going to do now?
and what about you, what are you going to do now?
are you going to sit there, and keep on watching?
cos if we all got up we could stop this movie
don't you think it's time we stopped this movie?
like a movie
flickering in blue and grey
like a movie
we can't let it end this way
George Galloway is calling this the trial of the century. (5 min)

Unable to be convicted for journalism, he stands accused of trumped-up charges in what is the trial of the century.
As George explains, a case of COVID has delayed the hearing till Monday.
https://www.youtube.com/watch?v=h6fW_SifEs4 (3 min)
On the fourth day of Julian Assange's extradition hearing, Judge Vanessa Baraitser decided to adjourn court until Monday morning September 14 due to COVID-related concerns. A prosecuting attorney may have come in contact with COVID-19 and is being tested for the virus.
AcTVism has been providing good coverage
Lee Camp had a pretty good rant about the Kangaroo court
https://www.youtube.com/watch?v=uQ2z2gcpyPg (23 min)
The original biased judge whose husband had been shown by wikileaks to be corrupt was forced to step down. However she appointed her biased underling to replace her.
The husband of Lady Emma Arbuthnot, the Westminster chief magistrate overseeing WikiLeaks' founder Julian Assange's extradition to the US, has financial links to the British military establishment, including institutions and individuals exposed by WikiLeaks.

It can also be revealed that Lady Arbuthnot has received gifts and hospitality in relation to her husband, including from a military and cybersecurity company exposed by WikiLeaks. These activities indicate that the chief magistrate's activities cannot be considered as entirely separate from her husband's.
https://katehon.com/article/biased-english-judge-removed-assange-case
Lady Arbuthnot's first ruling on Assange was made in February 2018 while he was a political asylee in the Ecuadorian embassy in London. Assange's lawyers had applied to have his British arrest warrant withdrawn.

Assange had never been charged with a crime, and in May 2017 the Swedish proceedings had been discontinued along with the European Arrest Warrant. The warrant related to Assange skipping bail to claim asylum in the Ecuadorian embassy, where the Ecuadorian government agreed that he was at risk of political persecution in the United States.

Arbuthnot refused the request. Her ruling was irregular, dismissing Assange's fears of US extradition and the findings of the UN. "I accept that Mr Assange had expressed fears of being returned to the United States from a very early stage in the Swedish extradition proceedings but… I do not find that Mr Assange's fears were reasonable," she said.

"I give little weight to the views of the Working Group," she added, referring to the United Nations body which termed Assange's condition one of "arbitrary detention". "I do not find that Mr Assange's stay in the Embassy is inappropriate, unjust, unpredictable, unreasonable, unnecessary or disproportionate."

When he was grabbed from the Ecuadorian embassy by British police in April 2019, district judge Michael Snow pilloried Assange's claims that Lady Arbuthnot was conflicted: "His assertion that he has not had a fair hearing is laughable. And his behaviour is that of a narcissist who cannot get beyond his own selfish interests," Snow told the court. Lady Arbuthnot made her most recent ruling on Assange in June 2019. District Judge Vanessa Baraitser — who is still overseen by Lady Arbuthnot — will rule on the extradition proceedings which begin on 25 February.
https://www.dailymaverick.co.za/article/2020-02-21-revealed-chief-magist...
The public gallery of 80 has been reduced to 9 "due to Covid". 5 seats are reserved for Julian's family and friends, and I have one of these today, but not guaranteed beyond that. There are just 4 seats for the general public.

Journalists and NGO's will be following the hearing online – but only "approved" journalists and NGO's, selected by the Orwelian Ministry of Justice. I had dinner last night with Assange supporters from a number of registered NGO's, not one of which had been "approved". I had applied myself as a representative of Hope Over Fear, and was turned down. It is the same story for those who applied for online access as journalists. Only the officially "approved" will be allowed to watch.

This is supposed to be a public hearing, to which in normal times anybody should be able to walk in off the street into the large public gallery, and anyone with a press card into the press gallery. What is the justification for the political selection of those permitted to watch? An extraordinary online system has been set up, with the state favoured observers given online "rooms" in which only the identified individual will be allowed. Even with approved organisations, it is not the case that an organisation will have a login anyone can use, not even one at a time. Only specifically nominated individuals have to login before proceedings start, and if their connection breaks at any point they will not be readmitted that day.
https://www.moonofalabama.org/
Surprise surprise...US attempting to block Spanish investigation into CIA spying on Assange
https://www.wsws.org/en/articles/2020/09/12/assa-s12.html
The attempt to extradite Julian Assange to the United States for prosecution is a war against freedom of the press and our right to know. If the prosecution of Assange under the Espionage Act occurs, it will define journalism for the 21st Century. No journalist or publisher who exposes war crimes or corruption will be safe.
Speakers
Daniel Ellsberg of the Pentagon Papers
James Goodale, the general counsel for the NY Times during the Pentagon Papers
Chris Hedges, Pulitzer Prize-winning author and journalist
Moderated by Sue Udry, Executive Director of Defending Rights and Dissent
streamed live, Sept. 9, 2020.
https://www.youtube.com/watch?v=tLJj_L56-YA&t=5m
Glenn suggest Trump play the hero and pardon Julian. He did so on Trump's favorite show.
https://www.youtube.com/watch?v=hrYN3e4sq8I (4 min)
Playing the pardon as a slap to Obummer and the $hill might be an effective strategy.
There are many unspoken truths.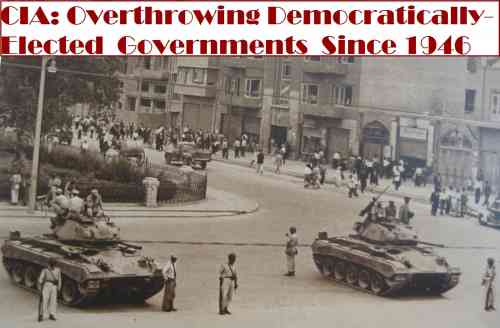 This week marked 9/11. It was 9/11/73 that we conducted a coup in Chile.
The grandson of Chile's former elected socialist President Salvador Allende, who was toppled in a 1973 CIA-orchestrated military coup, has lived in Venezuela for 10 years. The Grayzone's Ben Norton interviewed Pablo Sepúlveda Allende in Caracas.
https://thegrayzone.com/2020/09/12/grandson-salvador-allende-venezuela-u...
So there are many similarities.

Now in Venezuela it has been much more complex, much more sophisticated, the intervention, the destabilization. Now we see how it also has factors similar to those of Libya, of un-recognizing a government, un-recognizing the current government, of Nicolás Maduro, which was democratically elected, with more than 6 million votes, in which, yes, the opposition participated; where, yes, there were international organizations that monitored the elections.

But the United States and the other countries, say it was not a legitimate election; so they un-recognized the current government, and they recognize a parallel government.

So yes, with that of Allende, there are many similarities, in terms of the coups, the economic war, and also the response of the government has also been similar.
Anya Parampil speaks with The Grayzone's Ben Norton about US troll farm CLS Strategies that boosted Bolivia's coup regime and sought to destabilize leftist Venezuelan and Mexican governments. https://thegrayzone.com/2020/09/11/us-govt-democrat-troll-bolivian-mexic...
The article they discuss is here: https://thegrayzone.com/2020/09/06/cls-strategies-facebook-propaganda-ve...
This week Trump suggested the MIC is out of control. He's had four years to rein them in, but I've seen no real progress. Sadly just rhetoric. Jimmy explains
https://www.youtube.com/watch?v=B9zF3za5n0M (10 min)
Not only has Biden pledged to increase the military budget he also is committed to keep troops in the Middle East.
https://www.wsws.org/en/articles/2020/09/12/bide-s12.html
Sadly our wars have come home to roost...Chris Hedges writes-
Once people start being sacrificed for the cause, it takes little for demagogues of the radical left and the radical right to insist that self-preservation necessitates violence and is a prerequisite for victory.
https://scheerpost.com/2020/09/08/chris-hedges-american-bloodlands/
Talk about double speak, how about Kudlow and Trump out telling everyone how great the economy is?
"Besides the jobs, we are in a housing boom, autos boom, a consumer spending boom," Kudlow said on Fox News' "America's Newsroom." "Inventories are rock bottom. They will be rebuilt. Small businesses have greater confidence. No, the economy is rebounding. It is V-shape, at least 20% in (quarter) 3 and probably Q4."
https://www.newsmax.com/us/kudlow-relief-coronavirus-economy/2020/09/08/...
WASHINGTON — President Donald Trump's campaign speeches can careen into many topics, but his primary appeal continues to be that he built before the COVID-19 pandemic and he can do it again. The latest NBC News/Wall Street Journal poll shows he has an edge with voters on that issue and the Trump economy is likely to be a big topic
https://www.nbcnews.com/politics/meet-the-press/data-show-trump-didn-t-b...
"Pandemic be damned: America's 400 richest are worth a record $3.2 trillion, up $240 billion from a year ago, aided by a stock market that has defied the virus." The surge in the stock market, underwritten by the multi-trillion-dollar CARES Act passed in March, has filled the already overflowing coffers of the super-rich, who now hold claim to the equivalent of 15 percent of the country's gross domestic product
https://www.wsws.org/en/articles/2020/09/12/pers-s12.html
It is true the 1% have done well, but not the 99%. Many economists are suggesting capitalism is at its last gasp.
Here's Rick Wolff and Chris Hedges discussing the collapse
https://www.youtube.com/watch?v=dZ8aW58JCnA (28 min)
Wolff's new book, The Sickness is the System - When Capitalism Fails to Save Us from Pandemics or Itself, is available on September 15.
Rick Wolff was also on the Zero Hour this week comparing the US today with Germany in the 30's. https://www.youtube.com/watch?v=Qw_S0uQQjuk (36 min)
Max and Stacy discuss the fictitious capital markets driven higher by retail traders and meme enthusiasts in an options-enhanced rally driven by their own collective delusions.
https://www.youtube.com/watch?v=IptxNvtLuws (26 min)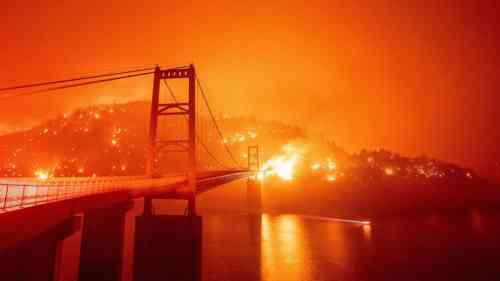 So we're watching the left coast burn with our economy. Lots of talk about fire and even hurricanes, but why is it they fail to add "caused by climate chaos created by burning fossil fuels"? Gov Newsom went out this week chastising climate deniers...as he approves more fracked oil wells in his state
Jimmy explains the hypocrisy...https://www.youtube.com/watch?v=js5t_loxiEw (16 min)
Lee Camp had a good piece this week explaining how Climate should be the primary topic across the media. https://www.youtube.com/watch?v=wK39MRZKzqQ (12 min)
The skies of the Bay Area and Northern California turned a dark orange as 90 major fires burn in the western United States, from San Diego to the Canadian border. At least seven people have died as a result of the fires, which have already burned 2.5 million acres in California alone. Despite heavy coverage in the mainstream media, however, few outlets are highlighting the link between the blazes and the accelerating climate crisis. "The fact is that TV news is completely abdicating its responsibility when it comes to telling the truth of what the West is dealing with right now," says Leah Stokes, assistant professor of political science at the University of California, Santa Barbara, and a researcher on climate and energy policy. "This is climate change. It's not rocket science. And when will the media start calling it that?"
https://www.democracynow.org/2020/9/10/leah_stokes_west_coast_fires
She continues...
So, we're not really in fire seasons anymore; we're in fire season year-round. And, you know, this isn't a question of modern recordkeeping. It's a question of burning fossil fuels, which is what we've been doing, which has been heating up the planet and, as scientists tell us, have increased fire risk by 500%. That's the kind of increase that we're seeing as a result of climate change.
...
Federal Reserve literally bought corporate bonds, corporate debt, of a number of fossil fuel companies. So you and I now own corporate debt for ExxonMobil, Chevron, BP, Marathon Petroleum and the electric utility company Southern Company. These are terrible corporations that have been denying climate change for decades, and they're not responsible corporate actors. And yet, what has the Trump administration done? It has given them a lifeline and a handout, at a time when they were not doing well financially, not because of COVID, but because of their own bad decisions.

So, really, what we are living through right now is a massive fossil fuel bailout. What the federal government is doing is not helping everyday Americans stay employed, pay their rent, pay their electricity bills. What they are doing is helping fossil fuel companies.
As with the criminal mishandling of the COVID-19 pandemic, the mass devastation wrought by the wildfires exposes the complete inability of capitalism to address any social problem. While the fires may be considered a "natural disaster," the unprecedented destruction is a product of the subordination of all aspects of society to the profit interests of the financial oligarchy.
https://www.wsws.org/en/articles/2020/09/12/west-s12.html
Paul Beckwith was interviewed this week in a wide ranging conversation loosely focused on "abrupt climate change" I've cued this clip to the end where they discuss ways of dealing with these changes, but the entire hour long conversation was interesting
https://www.youtube.com/watch?v=rigPcFJbgsk&t=50m (10 min)
Migration is already underway. People are leaving the big cities in droves. I found this conversation between Chris Martenson and his real estate friend very interesting also. They discuss ways to see opportunity in all these challenges. Their analysis of the patterns of change was insightful (to me).
https://www.youtube.com/watch?v=0zFP8-FMFdY (1.1 hour)
The crazy stock market rally since the March lows has received all the media headlines, but what about real estate? What impact is the coronavirus having on that market? One of the most successful real estate investors we know, Ken McElroy, says that covid-19 is accelerating and exacerbating a bust cycle that was already in the making. He predicts massive upheaval in 2021.
Transcript here:https://www.peakprosperity.com/ken-mcelroy-the-coming-real-estate-crash-...
How about some good news? (10 min)
Here again the entire episode is quite good. Chris goes through the history of his COVID coverage.
There are many more unspoken truths and damn lies, but I think we've looked at enough for this week. These last three clips all are trying to examine where we go from here. It is time to be introspective and think about how to adapt to these changing times. Dr John Campbell suggest we continue being careful this fall and winter but in general the virus though still spreading isn't causing as many deaths as he initially thought. Ivor Cummins is even more certain we're on the back side of the pandemic. (I do disagree with his idea about masks)
Viral Issue Crucial Update Sept 8th: the Science, Logic and Data Explained!
https://www.youtube.com/watch?v=8UvFhIFzaac
(37 min, but the 1st few minutes will give you the idea)
So perhaps good news on COVID. I'm feeling like there's light at the end of the tunnel. However, I think the world is going to be a different place when we emerge. So, now is a good time to think about life changes that might be of benefit to you when we can create a new normal. The garden and walking in the woods has been my refuge. I'm ready to return to my bike ride to town and visiting in the local stores, but no one is wearing masks around here. I'm ready for music gatherings and singing together again. I'm hoping by next spring we'll be able to do those things. In the meantime, I'm planting more trees this winter...another round of American Chestnuts, and new plantings of elderberry and mulberry. I also need to replace a hazelnut which never did leaf out, and a rasberry I accidently mowed down. So how are you all coping? Any new exciting plans? Take care friends, and keep up your guard up for a while longer.