The Weekly Watch
Submitted by Lookout on Sun, 08/02/2020 - 8:00am
Sold Down the River...Again!
This 3.5 minute clip says it well -
COVID-19 has been great for the billionaire class, and a disaster for the working people of the US. Other countries managed to contain and control the virus, but the US continues to demonstrate its incompetence.
Not only are cases increasing...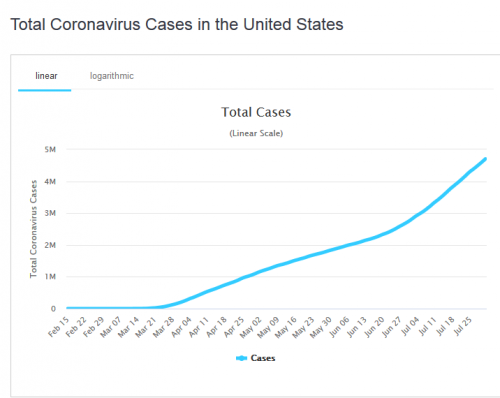 ...so are deaths.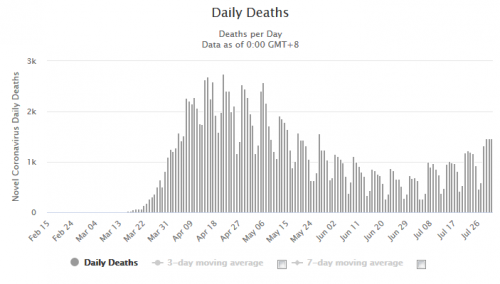 ...despite claims we've seen to the contrary.
https://www.worldometers.info/coronavirus/country/us/
The congress critters can't seem to get it together to provide any relief as the pandemic grows and the economy collapses. Better nothing than the bill they were considering in the Senate which included funding for a new FBI building, fighter jets, and the establishment of a so called "Trust" committee designed to cut social security and medicare.
https://www.commondreams.org/news/2020/07/28/utter-disgrace-gop-proposes...
The pandemic continues to be managed for the benefit of the oligarchs. From the get go, they delayed a testing program until big pharma held the patent for a US test. Then they sell record numbers of masks to China early in the outbreak while telling US citizens masks don't work and you don't need one. They continue to disallow the use of hydroxychloroquine (HCQ). We might want to look at countries that are using HCQ looking at their death rates (HCQ use is in green)
Countries using hydroxychloroquine have low coronavirus fatality rate compared to countries that don't, Association of American Physicians and Surgeons says
https://techstartups.com/2020/07/23/countries-using-hydroxychloroquine-l...
HCQ is cheap and generic. Nor has the FDA approved ivermectin (another inexpensive drug) which has been shown to be an effective treatment. This clip explains a possible mechanism of how ivermectin prevents clotting https://www.youtube.com/watch?v=kk7KNBak-i0&t=6m30s
Dr. Tarek Alam, a highly respected physician and professor of Medicine at Bangladesh Medical College (BMC), used two economical and easily available drugs to treat patients suffering from COVID-19 with considerable success in not only reducing the patients' viral load, but also cutting the severity of their cases. Dr. Alam, who kindly did an interview with TrialSite News, reports that 98% of his COVID-19 patients are cured by the combined use of anti-parasitic drug ivermectin and antibiotic #Doxycycline within 4 to 14 days. As Dr. Alam reported to the TrialSite, he secured BMC approved protocol to use this combination to great success.
https://www.youtube.com/watch?v=tE7RqQR9f_w (17 min)
Instead of inexpensive yet effective treatments, they recommend Remdesiver at over $3000 per treatment.
Remdesivir COVID-19 Sales to Hit $1 to $3 billion in 2020
which found that the drug did not help patients in China with severe COVID-19. Those findings were published April 29 in The Lancet medical journal.
On the same day, drugmaker Gilead Sciences announced positive early findings from a U.S.-designed clinical trial being conducted at 180 sites around the world.
https://www.webmd.com/lung/news/20200429/remdesivir-covid-studies-find-d...
Then there's the real cash cow...a vaccine.
https://www.nytimes.com/interactive/2020/science/coronavirus-vaccine-tra...
Merith Basey discusses the Vaccine Games...
https://www.youtube.com/watch?v=uqmgboBsh_U (18 min)
So I continue to contend that the pandemic is being managed for profit in the US. All the while creating the largest transfer of wealth to the elite in our history.
https://www.commondreams.org/news/2020/03/26/looting-america-big-corpora...
https://www.wsws.org/en/articles/2020/04/11/wolv-a11.html
This time around they seem to have failed to get their 'cut social security and medicare' relief bill through. Democrats and Republicans each blamed the other for their inability to come to an agreement, leaving out-of-work Americans in limbo as the vital benefits came to a halt. https://www.usatoday.com/story/news/politics/2020/07/31/coronavirus-stim...
Meanwhile TPTB await the bankruptcy of the postal service, the only business written into the constitution.
A 2018 White House plan includes raising the price of stamps and package delivery, reducing worker wages and benefits, decreasing the number of delivery days and ending the obligation to deliver everywhere.
And now, USPS is under new leadership. . He was selected by the USPS Board of Governors, whose members were nominated by President Donald Trump and approved by the Senate.
But if the White House or DeJoy are serious about making changes, they'll have to get lawmakers on board. Congress has to approve any changes to the rules of operation.
https://www.wdbj7.com/2020/07/08/bailout-or-raise-prices-the-battle-over...
Lisa Graves describes the Koch's decades long effort to kill this well functioning portion of government.
https://www.youtube.com/watch?v=E8AJ3frjWtI (30 min)
More on the USPS
https://www.youtube.com/watch?v=ouCocnSBTRY (12 min)
Now we sit on the brink of massive evictions and foreclosures. This fall is going to be very chaotic as the system falls apart. Jimmy explains in 7 minutes.
Lee Camp explains that As 28 Million Evictions Loom, Houses Sit Empty Everywhere!
https://www.youtube.com/watch?v=nsf_o0LqcvU (12 min)
Rick Wolff discusses Milton Friedman's statement that corporations should have no morality.
"Milton Friedman said it was foolish to expect a legal fiction such as a corporation to have a moral sense. The moral sense, he said, was resident in the people operating the corporations. Why is the trouble with capitalism systemic and not simply an indictment of the people who feel compelled to seek all power and profit through it? Why can't capitalism work with completely honest and moral people? There surely are decent, honest and moral people in sufficient numbers to operate the economy. What prohibits this from happening?"
https://www.youtube.com/watch?v=MLBGhJ4UpJ0 (9 min)
Well, the corporations certainly have no morality...
The economy is in shambles and the dollar is losing its dominance. Max and Stacy describe it as a nuclear monetary policy https://www.youtube.com/watch?v=f93hotTIfnU (15 min)
They have long been proponents of bitcoin and gold. This fellow suggests bitcoin and blockchain may be the basis of a new economy. He thinks infrastructure inversion provides a model. For example when the automobile came along there were only dirt roads and no gas stations, or when electricity came about there was no grid for the supply.
https://www.youtube.com/watch?v=KXIaILHl7Rg (27 min)
Bitcoin has its attractions. No government control, global transfers without oversight nor fees, limited availability and therefore it holds value. In fact it has really gained value as the global economy continues to stumble.
George Gammon compares dollars, gold, and bitcoin.
https://www.youtube.com/watch?v=q8-qnjAlQpg (19 min)
Are we in a crypto and metals bubble? China is trying to become the blockchain leader.
https://www.youtube.com/watch?v=m9SLqXoFwDE&t=1m51s (5 min or so)
Before I bought a little gold a few years ago, I asked my friend the judge what he thought about it. He admitted to having gold too, but suggested it is things of real use that will have value if things collapse. I realized our garden with 30 years of added fertility, the tools I've acquired over the years, the skills I have, my network of friends and associates, our lack of debt...these are the real things of value I have. The more I think about what money is, the weirder it becomes to me....pieces of paper said to have value.
My training as a soil scientist led me to understand soil, not oil, is the most important resource. It is the management of the land that provides stable water retention and use. Soil is the primary water pollutant and sediment deposits in our rivers account for most of the extinctions in Alabama, mainly mussels and amphibians. There is a means of production that not only retains soil, but builds fertility known as "regenerative agriculture". Just as we need a new approach to our economy, we need a new approach to our food production system. (23 min)
Gabe Brown is proponent and disciple of regenerative farming. He was named one of the 25 Most influential Agricultural Leaders in the United States. Gabe recently published, "Dirt to Soil: One Family's Journey Into Regenerative Agriculture", where he shares the story of healing his farm's soil and paves the road for other farmers to follow in his footsteps
https://www.youtube.com/watch?v=fFHnVgO0xPY&t=1m50s (56 min)
...an interview with Jeff Bridges.
The Dude Abides....
https://www.youtube.com/watch?v=lgBDGrw9ajY (35 min)
I titled this piece Sold Down the River. This 1859 song was as popular as "Uncle Tom's Cabin", and it tells the real story of being sold down the river...

One night I went to see her, but she's gone the neighbors say
The white man had bound her with his chain
They have taken her to Georgia to wear her life away
As she toils in the cotton and the cane...
I enjoy playing and singing this one. It is good to be reminded of how horrible things have been to keep perspective on our situation today. There's a reason we still struggle with the idea that black lives matter. Thanks to our invasion of Libya, there are now open slave markets there, so it's not like things have improved that much on a global basis. I used the title as a metaphor of what has happened to our society and government. Perhaps a better title might have been 'sold out to the corporations and oligarchs', for that is certainly the case. We can look at foreign policy as we did last week and our domestic approach to clearly see the abject failure of "government of the people, by the people, for the people" because the word oligarchs has replaced the word people. Seeing the way forward in this fundamentally corrupt and rigged system is difficult. Danny Sjursen describes how and why the social fabric is unraveling in his piece this week.
America is nothing if not a peculiar nation; one befitting its original sin of racialized chattel slavery — a practice historians have long dubbed the "peculiar institution." Should one accept that the U.S. is indeed exceptional, it's seemingly so in all the wrong ways. Surely, it's no accident that scholars now label another of America's aberrant behaviors — the death penalty, abolished by 70 percent of the world's nations, and every European Union member — as a "peculiar institution." Back when I shepherded select students from my civil rights class to Louisiana's infamous Angola State Penitentiary, they were shocked to learn that an executed prisoner's cause of death is listed as "homicide" on the official certificate. Is a country capable of such state barbarism — joining Syria, Libya, Afghanistan, and Iraq on that score — really above spiraling sectarian violence?
I would suggest now is time to take a look at the real things of value in our lives. Build a resource base for the uncertain future in these volatile times. I wish us all well, and hope we can somehow transition to a regenerative future.