Warren being cynical and dishonest
Submitted by snoopydawg on Sun, 01/12/2020 - 11:47pm
I have been one of the more generous Berners to Liz all along but her team's handling of this story is cynical and dishonest. They are misrepresenting her friend Bernie for money and sympathy. They are desperate. Officially grossed out.

— Clark Feels The Bern (@Clarknt67) January 13, 2020
Warren being told that Bernie is sending his supporters to trash her.
Oh come on, Liz. You say you know Bernie. Did you seriously think that he would do that? Of course you didn't, but you'll do anything just to win won't you?
The email.
The bottom tweet has been retweeted numerous times by people such as Neera Turner who keeps calling for unity and to tell people to play nice and then to vote blue no matter who!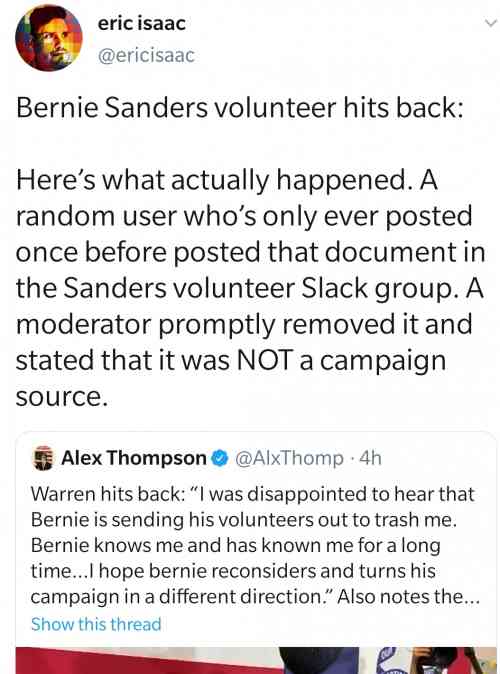 Just think folks...if Bernie gets elected and somehow gets his agendas passed people might have the chance to not go broke after having an illness or surgery. But imagine giving up the chance of that happening just because some idiot said something mean to you on Twitter. For gawd's sake Bernie has millions of supporters and I don't understand why people think that he is responsible for every damn thing they say. "Mom! Bernie's supporter said something mean to me!" Give me a damn break.
Warren has gone back on almost every one of the policies that she initially embraced in order to seem just like Bernie. If she actually wanted to do the things she says she does then she would never have run in the first place and she would have told people to get behind Bernie. And great job, Liz for going after Bernie instead of telling people how badly Biden has screwed this country in the long years he was able to. Not one thing ByeDone did helped anyone who wasn't rich.