War for fun and profit
Submitted by

gjohnsit

on Tue, 01/16/2018 - 12:55pm
The Pentagon recently announced that it was going to start drawing down troops from Iraq, but then this press release came out.

From January 2017 to January 2018 the number of Defense Department contractors in Iraq rose 34 percent, from 3,592 to 4,927, according to statistics CENTCOM released last week.
...Marine Brig. Gen. James F. Glynn, who heads special operations in Iraq for Operation Inherent Resolve, and who briefed reporters Tuesday on the state of operations in Iraq, said he was not aware of the increase in contractors.
Glynn also did not know whether the number of contractors in Iraq has increased to make up for a cut in U.S. force presence, nor did he provide how many U.S. forces are in the country now.
The Pentagon recently announced that it might start drawing down troops from Syria, but also announced this.

His comments marked the first time Mattis has indicated there would be an increase of civilians in parts of the country retaken from Islamic State militants.
"Well, when you bring in more diplomats, they are working that initial restoration of services, they bring in the contractors, that sort of thing," he said.
Right. Diplomats. In Syria.
Allow me to recall this article from 2016.

In an investigation from The Daily Beast, the nearly 300 US troops already present in Syria would be receiving "intelligence analysis services" from Six3 Intelligence Solutions Inc., a privately held defense contractor based out of McLean, Virginia. This $10 million contract would place an unknown number of contractors in various countries, including Syria.
Erik Prince and Fox News pundits assure us that only mercenaries can save us in Afghanistan.

When I showed that to Prince, he replied, "the hardcore anti-war left went after the troops in Vietnam ... (I)n Iraq and Afghanistan they went after contractors ... contractors providing a good service to support the U.S. military -- vilified, demonized, because they were for-profit companies."
If we don't use private contractors, he added, we will fail in Afghanistan, where we've "spent close to a trillion dollars and are still losing."
So the problem is the largely invisible anti-war left.
And this is what "not using private contractors" looks like.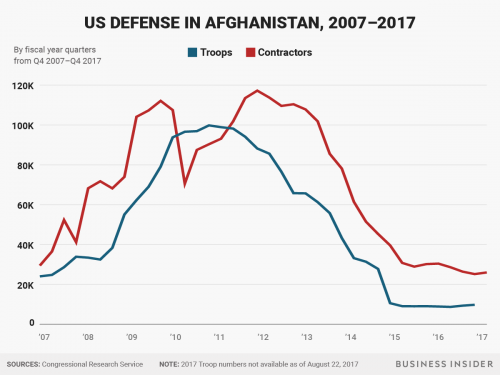 Back in 2016, there were roughly three mercenaries for every soldier in the region.

Under Obama, more private military contractors have died in Iraq and Afghanistan than all the U.S. troops deployed to those countries. Between Jan. 1, 2009, and March 31, 2016, 1,540 contractors were killed in Iraq and Afghanistan (176 in Iraq and 1,364 in Afghanistan). During that period, 1,301 U.S. troops were killed in Afghanistan and Iraq (289 in Iraq and 1,012 in Afghanistan). Last year was even more skewed toward contractors than the preceding six years; 58 contractors died in Afghanistan or Iraq, while less than half as many U.S. troops did (27) fighting in either country, including Syria.
When was the last time you heard a news report about a military contractor getting killed in one of our wars?
Speaking of Afghanistan...

Over the past nine months, Marine commanders have consistently said that the Marines in Helmand province do not accompany Afghan troops and police into battle, but on Monday, Watson gave a slightly different answer when asked if the Marines' mission includes fighting alongside the Afghans.
"We have the authority to do that," Watson told Task & Purpose. "Whether or not we exercise that authority is going to depend on how we assess the situation at the time, and obviously I'm not going to get into specifics on that."
This Afghan build-up has Congress considering doing their jobs for a change.
But the truly scary build-up is back in Syria.

The U.S. has a military presence in several key locations, but there are two areas with heavy U.S. troop presence that are being transformed to military bases, according to a military source: The first is located in Al Tabaqah near Al Raqqa north Syria, where the U.S. special forces troops are training Kurdish groups; the other is constructed in Al-Tanf where the U.S. troops prevent Syrian and Russian armed forces from crossing.
How is that not a provocative, hostile act?