The War Against Wikileaks
Submitted by gjohnsit on Fri, 04/12/2019 - 12:58pm
Ola Bini, a Swedish software developer, was arrested while trying to board a plane in Ecuador yesterday. Why is that relevant?

A senior Ecuadorian official says a Swedish software developer living in Quito and who is allegedly close to Wikileaks founder Julian Assange has been arrested as authorities attempt to dismantle a blackmail ring that in recent days had threatened to retaliate against President Lenin Moreno.
...On Twitter earlier Thursday, Bini called claims by the Interior Minister that Russian hackers and someone close to Wikileaks were working inside Ecuador "very worrisome" news. "This seems like a witch hunt to me," Bini wrote.
...Vijay Prashad runs a Marxist publishing house based in India and considers himself a close friend of Bini. He said Bini is "the last person who would ever be involved in an attempt overthrow a government."
I'm not making any judgements at all about Bini, except to note the coincidental timing of his arrest with Assange's arrest.
Speaking of coincidental timing, this also happened yesterday.

Facebook has unpublished the page of Ecuador's former president, Rafael Correa, the social media giant confirmed on Thursday, claiming that the popular leftist leader violated the company's security policies.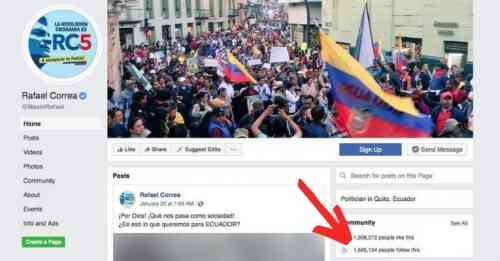 Correa's crime was denouncing PM Moreno for turning in Assange.
If this didn't already look like an organized hit job on Wikileaks, consider Caitlin Johnstone's report on events so far.

A British judge named Michael Snow has found the WikiLeaks founder guilty of violating bail conditions, inserting himself into the annals of history by labeling Assange "a narcissist who cannot get beyond his own selfish interest." So that tells you how much of a fair and impartial legal proceeding we can expect to see from the British judicial process on this matter.
...An unsealed indictment from the Trump administration's District Court for the Eastern District of Virginia, accompanied by an extradition request, charges Assange with "conspiracy to commit computer intrusion for agreeing to break a password to a classified U.S. government computer" during Chelsea Manning's 2010 leak of government documents exposing US war crimes.
You can be absolutely certain that this charge is bogus because it isn't based on any new information. The facts of the case have not changed, the information hasn't changed, only the narrative has changed.
There's a huge myth being misreported about today's indictment of Assange. The claim that Assange tried to help Manning circumvent a password to cover her tracks isn't new. The Obama DOJ knew about it since 2011, but chose not to prosecute him. Story on this soon.

— Glenn Greenwald (@ggreenwald) April 11, 2019
The weakness of the US charge against Assange is shocking. The allegation he tried (and failed?) to help crack a password during their world-famous reporting has been public for nearly a decade: it is the count Obama's DOJ refused to charge, saying it endangered journalism. https://t.co/xdTQ8xauB0

— Edward Snowden (@Snowden) April 11, 2019
Why the Assange arrest should scare reporters: column https://t.co/V99gBokkXz

— Matt Taibbi (@mtaibbi) April 11, 2019
And yet, many Democrats are backing Trump's prosecution of Assange.