Victory in Afghanistan?
Submitted by

gjohnsit

on Tue, 11/13/2018 - 5:27pm
Otto von Bismarck once said, "Never believe anything in politics until it has been officially denied."
That moment happened today in Afghanistan.

Afghan President Ashraf Ghani denied Monday that the Taliban is winning the war in Afghanistan despite a continuing wave of deadly militant attacks and signs the militants are expanding areas under their control.
Ghani said the Afghan state is not at risk of collapse and reiterated his government's intent to seek a negotiated peace. He insisted it would not do so "from a position of weakness."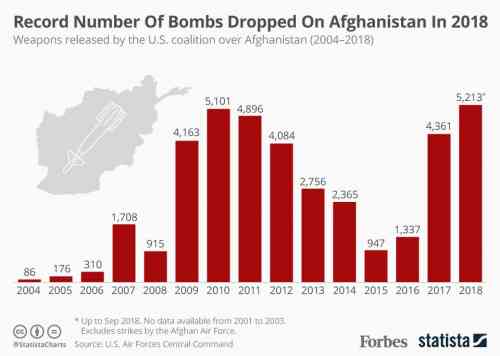 According to the official report, the Taliban have never been stronger.
But what do they know, amirite?
Consider this recent chain of events.

Gen. Scott Miller, the top US and NATO commander in Afghanistan, on Thursday narrowly escaped a bold, deadly insider attack the Taliban claimed responsibility for.
Miller at one point drew his sidearm during the attack, but did not fire, according to CNN.
...
Army Brig. Gen. Jeffrey Smiley was among the Americans wounded in Thursday's incident and is recovering from a gunshot wound, a NATO spokesman confirmed to CNN on Sunday. Smiley is in charge of the NATO military advisory mission in southern Afghanistan.
...It was an astonishing moment in a conflict that recently entered its 18th year, and perhaps the most embarrassing piece of evidence yet the US is badly losing the war.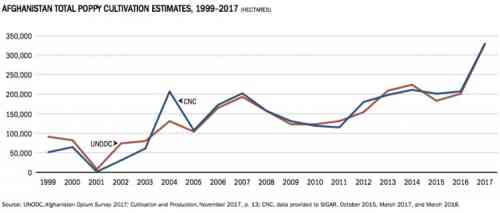 Having your generals shot tends to get a reaction.
In this case, American forces temporarily cut off all face-to-face contact with Afghan forces, which is a sure sign you are winning.
After a few days, contact was resumed...and there was almost immediately another deadly insider attack.
At virtually the same time, in a different part of Afghanistan, there was another sign that we were winning.

The most elite US-trained forces in Afghanistan suffered an embarrassing defeat to the Taliban in what's often referred to as the country's "safest district" over the weekend, yet another sign the war is a lost cause.

Early on Sunday, a company of roughly 50 Afghan special forces commandos was almost entirely destroyed in the rural district of Jaghori, according to a report from The New York Times.
We are winning so much in Afghanistan that the Trump Administration is considering asking the Afghan government to suspend its presidential election.
The trick is how you define victory.

"I think it is very important to keep in mind why we went to Afghanistan and the reason why we have stayed," says Petraeus. "We went to Afghanistan to eliminate the sanctuary in which the 9/11 attacks were planned, and we have stayed to ensure that that sanctuary cannot be reestablished by al Qaeda or, now, by the Islamic State or other extremist groups, and also to ensure we have a platform for our regional counterterrorism campaign."

Reconciliation, argues Petraeus, is "a legitimate aspiration, something we should certainly seek to achieve, however slim the prospects might be," but the U.S. should be prepared to stay in Afghanistan indefinitely, even if the Trump strategy to end the war fails.

"Look, we have had tens of thousands of troops in Korea for approaching 70 years. We've had them even longer, in larger numbers, in Europe," says Petraeus. "If you can get the cost down in blood and treasure, I think this is a sustainable commitment, and I believe it should be sustained given the importance of the mission."
Victory in Europe (our troops are still there). Victory in Korea (our troops are still there). Victory in Afghanistan (our troops are still there).
"Our troops will fight to win. From now on, victory will have a clear definition: attacking our enemies, obliterating ISIS, crushing al-Qaeda, preventing the Taliban from taking over the country, and stopping mass terror attacks against Americans before they emerge."
"One way or another, these problems will be solved — I'm a problem solver — and, in the end, we will win."
- President Trump, August 21, 2017