The very long stock bull market in three charts
Submitted by gjohnsit on Wed, 03/09/2016 - 12:56pm
This bull market in stock is getting very long in the tooth.
This is happening despite a collapse in corporate earnings

While bulls cling to predictions that profit growth will resume for Standard & Poor's 500 Index companies in 2016, analysts just reduced income estimates for the first quarter at a rate that more than doubled the average pace of deterioration in the last five years. Forecasts plunged by 9.6 percentage points in the last three months, with profits now seen dropping the most since the global financial crisis, data compiled by Bloomberg show.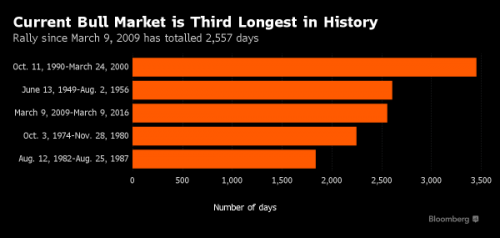 Is the stock market going up because regular people are buying stocks? No. Regular people are selling stocks. A lot of stocks.
Then who is buying stocks? Companies are buying their own stocks, and going into debt to do so.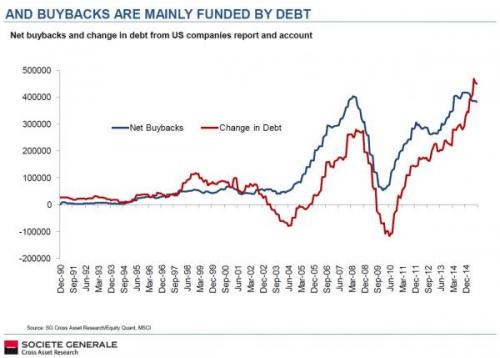 So are stock buybacks a good investment? No. Stock buybacks are not a good investment

The companies losing money on these bets are down a collective $126 billion over the past three years, a decline of 15 percent.
Many corporations would have been better off investing that cash in an index fund instead of their own stock. The overall market rose 39 percent over the same period.
So if you put all this info together, what logical conclusions would you draw from this?