Universal Health Care in maps
Submitted by gjohnsit on Wed, 09/05/2018 - 11:37am
The so-called "liberal" Atlantic has an article titled 'Medicare for All' Is a Fantasy.

It's also an indulgent fantasy, based on the illusion that we can simply reset the way the U.S. health-care system operates.
I'll let TheOnion make my response for me.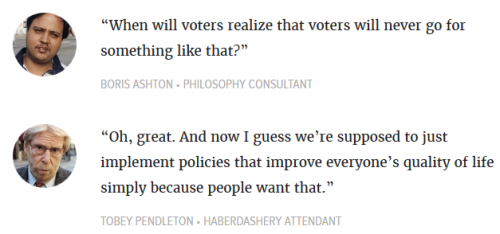 Because "it's a fantasy" the CBO won't score Sanders' bill.

However, it does not appear that CBO is working on a spending estimate, despite a request from Sen. John Barrasso (R-Wyo.), who asked for a cost analysis in September in order to highlight the steep costs for Medicare for all, also known as single-payer.

Barrasso told The Hill last week that he doesn't recall receiving a response from the CBO, suggesting that his request was not accepted.

The CBO declined to comment, but former directors said the fact that passing single-payer legislation is not a priority for the Republican-controlled Congress means the CBO is unlikely to devote time to scoring the bill.

Doug Elmendorf, a former CBO director, said the budget scorekeeper is required to provide estimates only for bills that have made it out of committee and that other measures it scores are usually the priority of a chairman or ranking member.
Medicare for all is now overwhelmingly popular.

The vast majority of Americans, 70 percent, now support Medicare-for-all, otherwise known as single-payer health care, according to a new Reuters survey. That includes 85 percent of Democrats and 52 percent of Republicans. Only 20 percent of Americans say they outright oppose the idea.
Sometimes a map says it all.