Twitter suspends account of James Woods because - wait, is this a joke?
Submitted by

bondibox

on Mon, 09/24/2018 - 10:06am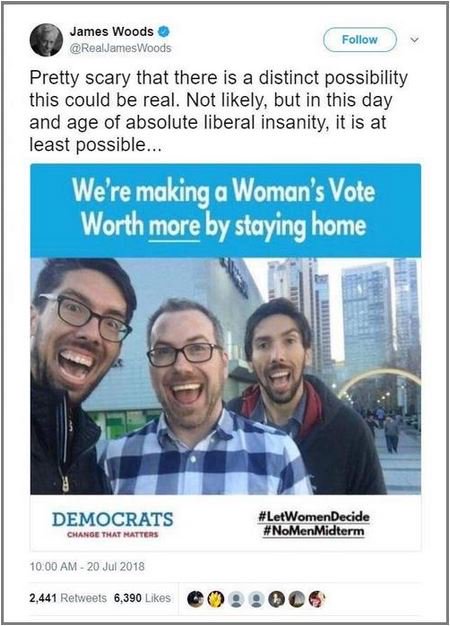 I'm gobsmacked and nearly without words. Yesterday, Twitter locked out actor James Woods from his twitter account because of a meme he tweeted back in July, citing a violation of its rules, arguing the tweet had the "potential to be misleading in a way that could impact an election."
This is Liberal Insanity. Liberals no longer get to poke fun with rightwingers-are-stupid-rednecks memes. It reminds me of another meme about overly sensitive pantywaist ninnies...
I'm not callow enough to claim this is a violation of his 1st Amendment rights. Twitter is a private entity; this wasn't an act of Congress. But it is censorship of the most mundane variety, and clearly reflects Jack's partisan leanings. It seems everything the Democrats do these days makes me want to support the Republicans.