Tulsi Needs 22,525 New Donors by May 15
Submitted by apenultimate on Thu, 03/21/2019 - 7:33pm
Well, she has been definitely closing the gap! In the last 4 days, Tulsi has gone from needing about 27,000 new donors to now needing 22,525. The deadline is also now defined: May 15.
See the email from the Tulsi campaign today: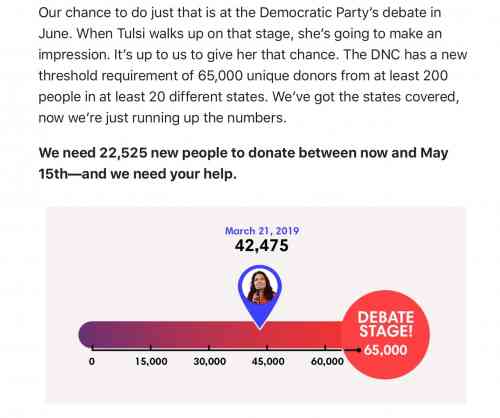 It looks as though they have 200 donors from at least 20 states (which is another one of the requirements), which is cool.
Edit to add: If you have not yet donated and want to see Tulsi Gabbard in the Democratic debates, go to Tulsi2020 and follow the links to donate--or even if you have already donated and wish to donate more!
Alternatively, if you prefer to pay by check, mail your check, name, address, occupation, and company you work for to:
Tulsi Now
PO Box 75255
Kapolei, HI 96707
UPDATE: Tulsi got 1,780 new donors in the past day! Yesterday, I figured she would need to get 403 new donors per day until May 15 in order to reach the goal, so she is currently on a good pace.