Trump is blowing up globalism
Submitted by

gjohnsit

on Sun, 06/10/2018 - 9:38pm
Trump is an idiot. He's easily the dumbest president this country has ever had, but even a stopped clock is right twice a day.
I'm no fan of globalism, because in globalism the multinational rules the national. Democracy does not exist at the multinational level, only capital does.
That's why I'm tickled by Trump's incoherent, childish antics this week.
For starters, there's the collapse of the NAFTA talks.

Donald Trump's trade adviser on Sunday blamed Canada for the failure to finalize a reboot of the North American Free Trade Agreement and suggested the country's prime minister is headed to hell for crossing the U.S. leader.

"We'd have a great deal with Nafta by now if the Canadians would spend more time at the bargaining table and less time lobbying Capitol Hill, and our press and state governments here," Peter Navarro said in an interview on "Fox News Sunday." "They are just simply not playing fair. Dishonest. Weak."

Navarro also said "there's a special place in hell" for any foreign leader engaging in "bad faith diplomacy" with Trump, referring to Canadian Prime Minister Justin Trudeau.
NAFTA still exists, but in a weakened state. It's no longer sacrosanct.
However, it was at the G7 where Trump really shined.

A war of words has erupted between the US and its G7 allies, hours after the group had put on an apparent show of unity at the end of a tense summit.

US President Donald Trump and two of his advisers lashed out at Canadian PM Justin Trudeau, accusing him of engaging in "bad faith diplomacy".

Germany's Angela Merkel said Mr Trump's decision to reject a joint communique was "sobering" and "depressing".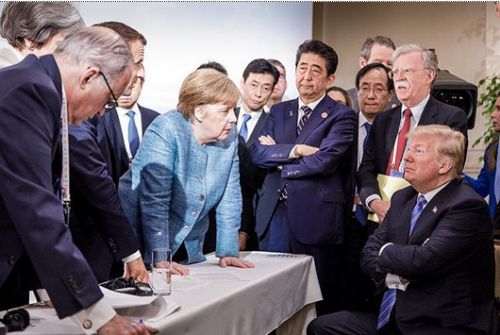 Oh, it got better than that.

In a conversation that foreshadowed the fractures that emerged at this weekend's tense G-7 meeting, President Donald Trump reportedly told French President Emmanuel Macron in April that he viewed the EU as "worse than China" when it came to trade issues.
Macron didn't take that statement like Trump thought he would.

Emmanuel Macron has called on other members of the G7 to stand up to Donald Trump's trade policies in the face of what he described as the threat of a new US "hegemony".
And then there is Russia.

UK Prime Minister Theresa May on Friday slammed President Trump's proposal to let Russia rejoin the Group of 7 — saying that Vladimir Putin's "malign activity" had continued after the annexation of Crimea.

"I have always said we should engage with Russia but my phrase is 'engage but beware,'" she said.

"We should remind ourselves why the G8 became the G7, it was because Russia illegally annexed Crimea. We have seen malign activity from Russia in a whole variety of ways, of course including on the streets of Salisbury in the UK," she said referring to the poisoning of a Russian spy turned double agent and his daughter, which the Brits have blamed on Putin.
If malign activity is the problem, then what about the U.S., British, and French bombing of Syria and Libya?
It matters less why these agreements are blowing up, than the fact that they are blowing up.
Let's hope NATO and WTO are next.