Top contender for most tone deaf tweet in history
Submitted by snoopydawg on Fri, 02/26/2021 - 9:35pm
Is that what Pelosi meant when she told Wolf that she feeds them. THAT SHE FEEDS THEM!
The promise: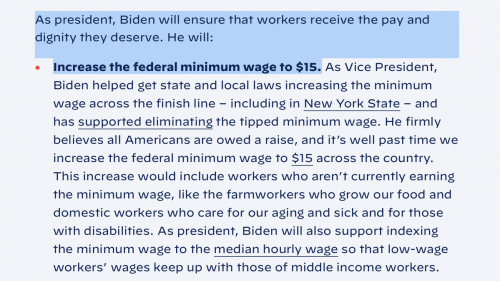 The reality behind the scenes:
In William Greider's book Who Will Tell the People, he describes Democratic senators being angry in 1989 at being forced to cast a "money vote" increasing the minimum wage. Ted Kennedy wanted it to go up to $4.55, just to keep up with inflation. That got bargained down to $4.25. pic.twitter.com/Sx7msk1xkm

— Jon Schwarz (@schwarz) February 26, 2021
It came from this short thread that's worth reading.
Who can forget the inspiring 2020 Democratic Party slogan, "Vote Blue and We'll Raise the Minimum Wage to $15 an Hour Unless the Senate Parliamentarian Says We Can't Which We Could Overrule But We Won't"

— Jon Schwarz (@schwarz) February 26, 2021