A Thousand Words
Submitted by Cant Stop the M... on Sun, 09/13/2020 - 5:46am
It's very difficult to focus on the good these days, and I'm struggling to hold both truth and positivity in balance. I don't want to live in denial about how bad things are, and I especially don't want to lie. On the other hand, wailing in a corner tearing my hair out won't help anyone, and will make for a life not worth living. As Garrison Keillor once said, "He had to get a hold of himself, so as not to go crazy. Because there was too much time to be crazy in!"
There's definitely too much time to be crazy in.
So, in these times, I think the right thing to do is to keep a weather (heh) eye on the real, but not allow current events to trap you in their Medusa gaze. Because our current reality can freeze you in place, staring at that which makes you despair, unable to tear your eyes away. If you're not careful, you'll turn to stone. I've been mostly petrified for the last nine years.
So I thought we could do something a little different today. I've got some pictures that epitomize what I'd like the world to be. I thought I'd put one (or some) up and talk about what they mean to me, and then you all could, if you want, share pictures that represent what *you* would like to see in the world.
So here's one of my favorite pictures:
It's from the set of the movie The Blues Brothers. I have loved that movie since I was an adolescent. I didn't realize then that the project was Aykroyd's way of re-popularizing classic blues, because I didn't realize blues had become unfashionable. (Sort of like, much later, I didn't realize J.K. Rowling was re-popularizing reading books. I didn't see how either reading or breathing could be unfashionable.) In fact, blues had, at the time, become so unfashionable that Aykroyd and John Landis (the director) were able to afford a star-studded cast, filled with actual blues legends, that they probably could not have assembled in one place if those legends hadn't fallen on hard times.
I also appreciated that the movie pointed a sharp and critical finger at the right-wing swing of our culture. The backstory was that Jake and Elwood Blues had grown up in a Catholic orphanage. At the beginning of the movie, they find out the orphanage is going to be closed down unless the impoverished institution can pay its tax bill. Neither the Catholic Church nor the government nor anybody else has any interest in keeping an orphanage going, preferring to make money off selling the real estate. So the two blues musicians (and criminals) take it upon themselves to raise the tax money and keep the orphanage doors open.
But here's the place where the fiction of the movie and real life intersect:
John Landis filmed this on Maxwell St in Chicago. There has always been something about the place and the people in that scene that compels me. Everything is so real, and the place so clearly bears the mark of the people who live there. It expresses them, not some rich white landlord or government, and not some corporate bastard. I don't romanticize the poverty shown here; it would be great if some of those buildings were not burned-out wrecks. Neither do I deny the rich history of intimidation and graft that existed in the Maxwell St Market. But the people Landis caught on film clearly have a neighborhood, and a community, that belongs to them.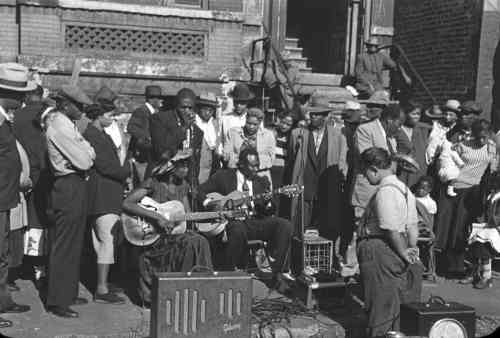 https://www.chicagotribune.com/news/ct-maxwell-street-flashback-per-0831...
This, on the other hand, is what Maxwell St looks like today, after gentrification, a word whose etymology reveals its noxiousness: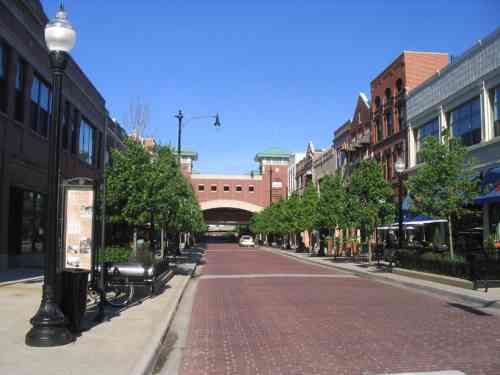 Defenders of this kind of urban planning note the complete lack of poverty, dirt and mess. There certainly isn't any poverty. There aren't any poor people either. And it's not because they suddenly became rich.
My picture, then, shows two white guys, artists and performers, who appreciated and respected the talent and work of black people; they used their fame to break through the insulation of white America and portray these musicians--and the people who were their first and best audiences--with true respect, and in so doing, they brought blues back from the shadowy unfashionable hinterland into which it was being driven back in the 1970s. It's too bad that they could not do the same for the actual community of Maxwell St. Their depiction of it was honest and respectful in the best sense, without either condescension or idealization, and it's unfortunate that the best they could do was make a record of the place that would, within fifteen years, become erased and replaced with a paean to profit that reflects the souls, sensibilities, transactions and customs of no one.
In most places, I would be called reactionary and racist for saying so, but I want more Maxwell St Markets in the world. And let me be clear, I don't need Maxwell St to be impoverished or quaint. It would be fine with me if those buildings I see in Landis' film were fixed up and if the people who lived there got better pay. What I like about the Maxwell St Market is that it was a locality: a place where physical geography intersects with the lives of those who live there, where the place reflects the feelings, desires, experiences, transactions, and customs of those who live there, as well as those who lived there before. After the gentrifiers come through, a place that once expressed the lives and history of a community expresses nothing but the fact that someone, somewhere, wanted to make a profit, and several other people wanted to pat themselves on the back for being able to afford high land prices.
What would you like to see more of in the world?
Show me your pictures.