Talking Turkey
Submitted by gjohnsit on Tue, 08/14/2018 - 3:46pm
By now you've probably heard that Turkey is having a financial crisis, and Trump appears to be pouring gasoline on it.
But you may not understand what is happening, or you may not know why it's important.
So let's do a quick recap.

Turkey's currency fell to a new record low today. Year to date it's lost almost half its value, leading some investors and lenders inside and outside of Turkey to lose confidence in the Turkish economy.
...
"Ninety percent of external public and private sector debt is denominated in foreign currencies," he said.

Here's the problem. Because of the country's falling currency, that debt just got a lot more expensive.
A Turkish business now effectively owes twice as much as it did at the beginning of the year. "You are indebted in the U.S. dollar or euro, but your revenue is in your local currency," explained Lale Akoner, a market strategist with Bank of New York Mellon's Asset Management business. She said Turkey's private sector currently owes around $240 billion in foreign debt.
In essence this is an emerging market financial crisis, much like the 1997-98 Asian Financial Crisis.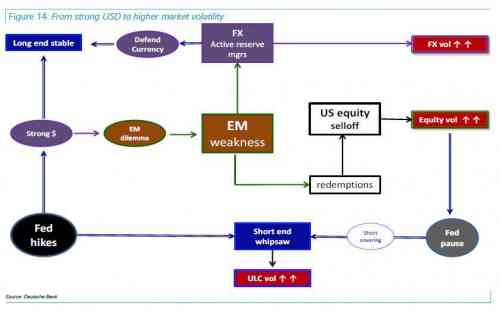 This is all about hot money that has been washing around in a world of artificially low interest rates, and now, finally, an external shock happened. As it always happens.

The bid-ask spread, or the difference between the price dealers are willing to buy and sell the lira at, has widened beyond the gap seen at the depth of the global financial crisis in 2008, following Lehman Brothers Holdings Inc.'s collapse.

So why should you care? Why does that matter to you or me?
Well, like most emerging market financial crisis there is the danger of contagion.

The turmoil follows a similar currency crash in Argentina that led to a rescue by the International Monetary Fund. In recent days, the Russian ruble, Indian rupee and South African rand have also tumbled dramatically.

Investors are waiting for the next domino to fall. They're on the lookout for signs of a repeat of the 1997-1998 Asian financial crisis that began when the Thai baht imploded.
A minor currency devaluation of the Thai baht in 1997 eventually led to 20% of the world's population being thrust into poverty. It led to Russia defaulting in 1998, LTCM requiring a Federal Reserve bailout, and eventually Argentina defaulting in 2001.
Turkey's economy is four times the size of Greece, and roughly equal in size to Lehman Brothers circa 2008.
The markets want Turkey to run to the IMF for a loan, but that would require a huge interest rate hike and austerity measures that would thrust Turkey into a long depression. However, that isn't the biggest obstacle.

The second is that Erdogan would have to bury his hatchet with the United States, which remains the IMF's largest shareholder. Without U.S. support, Turkey has no chance of securing an IMF bailout program.
There is another danger, a political one and not so much an economic one, that could have dramatic implications.
If Erdogan isn't overthrown, or humbled, then there is an ironclad certainty that Turkey will leave NATO and the West.

Turkey, unlike Argentina, does not seem poised to turn to the International Monetary Fund in order to stave off financial collapse, nor to mend relations with Washington.
If anything, the Turkish President looks to be doubling down in challenging the US and the global financial markets -- two formidable opponents.
...
Turkey would probably no longer view the US as a reliable partner and strategic ally.
Whoever ends up leading the country, a wounded Turkey would most likely seek to shift the center of gravity away from the West and toward Russia, Iran and Eurasia.
It would make Turkey less in tune with US and European objectives in the Middle East, meaning Turkey would seek to assert a more independent security and defense policy.
Erdogan has warned Trump that Turkey would "seek new friends", although Russia and China haven't yet stepped up to the plate to bat for him.
Russia, Iran and China do have a common interest when in comes to undermining the petrodollar. Pulling Turkey into their sphere of influence would be a coup.
Turkey lies at a historic, strategic crossroad. The bridge between the peaceful West and the war-ridden dictatorships of the East that the West likes to bomb.

On its Western flank, Turkey borders Greece and Bulgaria, Western-facing members of the European Union. A few years ago, Turkey — a member of NATO — was preparing the join Europe as a full member.

Turkey's other borders face six nations: Georgia, Iran, Iraq, Syria, Armenia, and Nakhchivan, a territory affiliated with Azerbaijan. Five of those are involved in ongoing armed conflicts or outright war.
Losing Turkey would be a huge setback for NATO, the MIC, and the permanent war machine.