The Talking Stick Presents: Favorite Instrumentals Tuesday
Submitted by phillybluesfan on Tue, 03/13/2018 - 5:00am
The gym lights gleam like a beacon beam

And a million motors hum

In a good will flight on a Friday night;

For basketball beckons, "Come!"

A sharp-shooting mite is king tonight.

The Madness of March is running.

The winged feet fly, the ball sails high

And field goal hunters are gunning.

The colors clash as silk suits flash

And race on a shimmering floor.

Repressions die, and partisans vie

In a goal acclaiming roar.

On a Championship Trail toward a holy grail,

All fans are birds of a feather.

It's fiesta night and cares lie light

When the air is full of leather.

Since time began, the instincts of man

Prove cave and current men kin.

On tournament night the sage and the wight

Are relatives under the skin.

It's festival time, sans reason or rhyme

But with nation-wide appeal.

In a cyclone of hate, our ship of state

Rides high on an even keel.

With war nerves tense, the final defense

Is the courage, strength and will

In a million lives where freedom thrives

And liberty lingers still.

Now eagles fly and heroes die

Beneath some foreign arch

Let their sons tread where hate is dead

In a happy Madness of March.

"Get ready for March Madness," touts the NCAA's website. Peoria, too, is set for madness, as it gears up for the Illinois High School Association's state basketball tournament at the Peoria Civic Center. While the games have been hosted in Peoria since 1996, the roots of March Madness in Illinois run much deeper. The phrase itself caught on with the IHSA's start in 1908, and was officially coined in 1939 by IHSA Administrator Henry Van (H.V.) Porter in a magazine article he wrote, and later in his poem "Basketball Ides of March."
I know, I know. It's only a bread and circuses sideshow, taking our minds off what really matters. But I have a dog in the hunt this round and, until I hand you the stick, it's my blog.

F.Y.I. Lubbock can also lay claim to Buddy Holly and the Sowell Conference
1852: Uncle Sam cartoon figure made its debut in the New York Lantern weekly


1925: A law makes it illegal to teach the theory of evolution in Tennessee schools ( The Butler Act ). In the next few years teachers who continued teaching evolution were prosecuted under this act. The basis of the Butler act was that by teaching evolution teachers would be denying the literal Biblical account of man's origin. The law stayed in place until it was repealed in 1967


1948: According to an article dated this date, unregistered firearms were no longer in Bingham Canyon, Utah. This mountain mining camp town was the last town of the "Old West" to make it illegal to carry a firearm without a license.


1990: This was an event that usually would only happen in a fantasy movie. An off-duty policewoman and her dog was "sucked up" by a tornado and carried 25 feet, along with other debris such as tree branches and mud. She had only suffered minor injuries and aches and pains, and her dog was not hurt. This is one tornado story that is not often heard about-at least not in real life.


1992: FCC rules companies can own 30 AM & 30 FM stations (formerly 12)


1996: In Dunblane, Scotland Thomas Hamilton bursts into the gymnasium of the Dunblane Primary School with four guns and opens fire on a kindergarten class killing Sixteen children and their teacher . Hamilton was known to have a history of drug use. He also had resigned from his position as a Boy Scout leader in the 1980s, due to "improper behavior". As a result stricter gun laws were passed in Great Britain.


1996: (March 17th) A backboard wasn't all that came crashing down around North Carolina.

1997: Thousands of people report seeing a huge carpenter's square-shaped UFO including the Arizona Republican governor Fife Symington the phenomena is known as the Phoenix Lights and although many theories have been put forward for what the lights were, many of those that saw them are still convinced they were a V-shaped UFO.


2010: Wolves are suspected of killing a teacher that was jogging from an isolated Alaskan village. An autopsy has revealed that Candice Berner, 32, died of injuries sustained in an animal attack. Her body was dragged off a rural road, leaving a bloody track, and into a nearby bush. It was surrounded by wolf tracks. Police have said that the area's wolves had recently become more aggressive. If confirmed, it is believed to be the first fatal wolf attack in the U.S. in fifty years.

"The saying has it that man is wolf to man.
But rarely do wolves kill other wolves.
Unlike us, wolves do not seek mutual extermination. wolves have a bad reputation, but they are not the ones turning the world into an immense lunatic asylum and an overcrowded cemetery." - Edward Galeano
I call today's open thread "Favorite Instrumentals Tuesday" 'cause I'm not focusing on lyrics this time around. If asked to name my personal favorite instrumental group, one group immediately leaps to mind...

"From Memphis, Tennessee, one of the best bassmen in the business."
- Elvis, on stage, 1954.

For someone who played such a large part in the early years of the Elvis legend, helping provide the music and establishing the hillbilly cat, it's more than a little surprising how few and spread about are the details of Bill Black. It is amazing just how important Bill was in the Elvis Presley story ... and beyond it.
The talking stick ...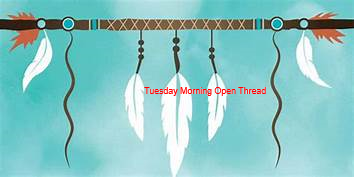 is now in your hands now.
Name your favorite instrumental and/or instrument group. Post 'em if ya got 'em!