Syrian rebels and the hypocrisy of McCain
Submitted by gjohnsit on Fri, 10/11/2019 - 1:16pm
"The View" co-host Meghan McCain went on an epic rant against anyone and everyone associated with the betrayal of our Syrian Kurdish allies.

"I've been so mad this morning and so upset about this news that we are abandoning our Kurdish allies in the Middle East. These are allies of ours that American soldiers are still continuing to fight alongside," McCain said. "All we did was arm them and they fought for America, and right now, we're just saying we're just going to leave them and abandon them."
"To everyone in the White House and every Republican who was mad that President Obama pulled out of Iraq: you feckless, unpatriotic cowards," McCain continued.
The Syrian Kurds that Meghan cares so deeply for are being attacked by the Turkish proxy-army of the Syrian National Army (SNA). The SNA commander is Salim Idris.
Here's a picture of Salim Idris. He's the one standing next to Meghan's dad.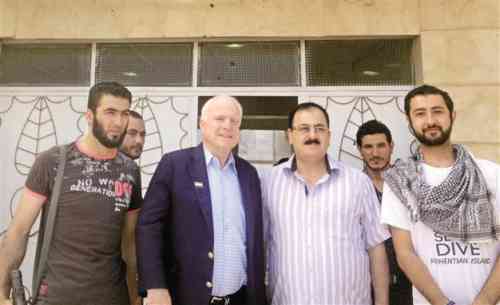 McCain had insisted that the United States could locate the "right people" to help among rebels in Syria.
Which brings us to this picture.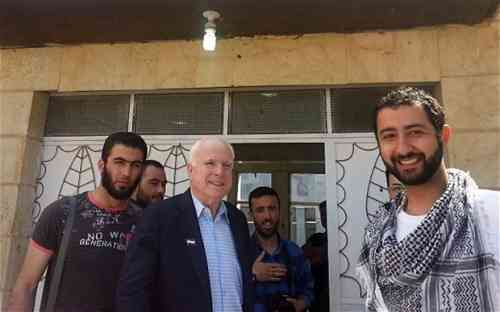 Two of the men in the image are Mohamed Nour and Abu Ibrahim, claimed Lebanese newspaper The Daily Star. The men are described as being part of a group who kidnapped 11 Shias last year.

They were identified by one of the kidnap victims, Anwar Ibrahim, who along with one other hostage has since been freed, the Star said. Negotiations over the freedom of the other nine are still ongoing.

"I recognised him (Nour) immediately. He was the photographer who was brought in to take our photos [during captivity]. He works with the kidnappers. He knows them very well," Mr Ibrahim told the Star.
If those are the "right people" (i.e. kidnappers and people who want to destroy our allies) who are the wrong people?
It seems those people are the ones that Tulsi Gabbard met with.

Gabbard's trip raised alarms over a potential violation of the Logan Act, a federal statute barring unauthorized individuals from conferring with a foreign government involved in a dispute with the US. The US currently has no diplomatic relations with Syria.
Gabbard's office said her visit was approved by the House ethics committee.
So talking to a foreign government is wrong and possibly illegal, but giving aid to terrorists...? That is OK.

The late GOP Sen. John McCain — Meghan McCain's father — criticized the congresswoman's visit at the time. The elder McCain said Gabbard's visit with Assad sent the "wrong signal" and "kind of legitimizes a guy who butchered 400,000 of his own people."
...
"When I hear the name Tulsi Gabbard, I think of Assad apologist. I think of someone who comes back to the United States and is spouting propaganda from Syria," McCain said.
As far as I can tell, the only consistency of Meghan McCain and her father was that they opposed Assad and Gabbard. On every other issue they take both sides and contradict themselves, including who are our allies.