Surprise! The corporate tax cut is going into stock buybacks
Submitted by

gjohnsit

on Sat, 03/10/2018 - 5:29pm
Remember how Trump promised us that cutting the corporate tax rate would encourage corporations to invest in America, which would turn into jobs? Yeh, I know. To believe that would require not knowing how economics work.
Corporations only invest in production when they expect more demand. Without demand, corporations will do stuff like this.

Companies will buy back a record amount of their own shares in 2018, with nearly half the purchases funded with the windfall from the Tax Cuts and Jobs Act, according to a J.P. Morgan analysis.
...J.P. Morgan strategists estimate that firms in total will authorize at least $800 billion in buybacks, a whopping 51 percent increase from 2017. Analysts across Wall Street are widely expecting a jump in share repurchases, but J.P. Morgan's forecast is the most aggressive.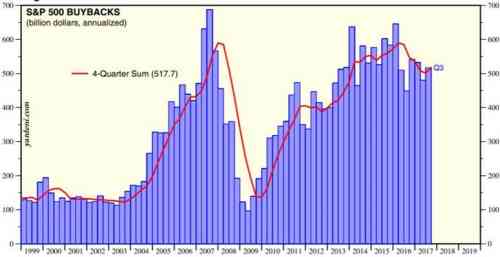 S&P 500 firms are reportedly on track to give $1 trillion in either dividends or share buybacks to shareholders this year. Trim Tabs Research reported $113.4 billion in February alone.
84% of stocks are owned by the top 10%. So this has predictable effects.

Economist William Lazonick of the University of Massachusetts at Lowell has argued for a while now that buybacks encourage "value extraction over value creation" and have "contributed to employment instability and income inequality." In the past couple of years, several economists of a more mainstream bent have weighed in with studies linking increased spending on buybacks to decreased corporate investment.
Until 1982, corporate stock buybacks were rare and of "dubious legality".
The last time stock buybacks spiked was right before the 2008 crash.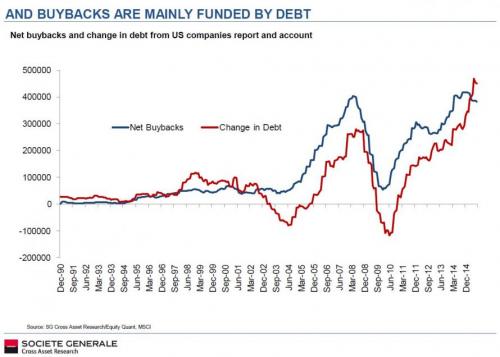 To be fair, corporations aren't the only ones buying stocks hand-over-fist. Trump supporters are too.

"I hear it every day," said Jimmy Freeman, a financial adviser at Edward Jones in San Angelo, a city of some 100,000 that's just east of the booming Permian Basin shale oil fields. "The market's going up because of Trump. They all think it's Trump."

Across middle America, in the towns big and small that voted overwhelmingly for Donald Trump, his most ardent, and financially comfortable, backers are opening stock-market accounts or beefing up existing ones, according to interviews with more than a dozen advisers and brokers. They were spurred on by a stream of presidential tweets crowing about, and taking credit for, the gains throughout 2017 and they remain undaunted now as the rally sputters and the tweeting dissipates.
Which just proves that Republicans don't actually know how capitalism, or even the political system, works.