Student loan bubble may be bursting
Submitted by

gjohnsit

on Sat, 07/15/2017 - 9:37pm
Federal government outlays hit an all-time record last month, at $429 billion, 33% higher than the $323 billion in outlays a year ago.
So what's that got to do with student loans?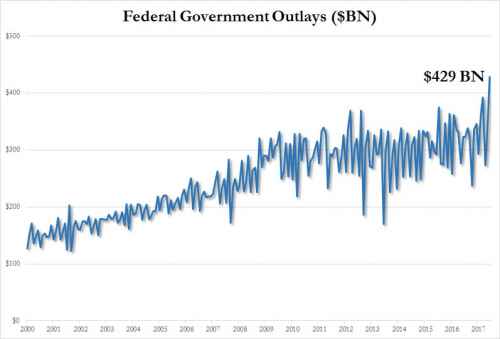 Outlays for the Department of Education rose by $31 billion (or 51 percent), because the department revised upward, by roughly $39 billion, the estimated net subsidy costs of loans and loan guarantees issued in prior years—a change much larger than last year's $7 billion upward revision.
Overall student loan debt is $1.5 Trillion, larger than the GDP of Canada, and most of that is federal loans.



That alone has bubble written all over it, but the default rate is beginning to say bust.

More than one million people defaulted on their student loans last year, compared to just 400,000 the year before... If the current default rate continues, we're looking at 25% of all borrowers actually defaulting on their loans by next mid-term election.
Roughly 40% of student loans debtors are in default, 27 million people. It doesn't take a genius to see that these are unsustainable trends, but you may not realize how unsustainable.

Alan Collinge, the founder of Student Loan Justice, says that these efforts will not relieve current students of debt, nor will they protect future students from acquiring debt. He anticipates that this crisis will explode within the next 12 to 18 months. Nothing short of a student debt jubilee will work.
When this blows up a roughly $50 Federal surplus from these loans will turn into hundreds of billions of deficit.
Never fear. The Trump Administration has got this.

Step by step, the Trump administration is walking back policies and rules in higher education that its predecessor said were needed to protect students who rely on federal funding to pursue a degree.
...Another much-debated rule is "borrower defense to repayment," which erases federal loans for students whose colleges used illegal or deceptive tactics to get them to borrow money to attend...Before those changes could take effect July 1, DeVos suspended them last month and said she would convene a committee to reconsider the matter.