Stocks are extremely overpriced...but that doesn't mean they will fall
Submitted by

gjohnsit

on Tue, 08/07/2018 - 4:31pm
There are several ways to measure whether stocks are expensive or cheap.
There is the Warren Buffett indicator.

Put simply, the indicator is the total market cap of all U.S. stocks relative to the country's GDP. When it's in the 70% to 80% range, it's time to throw cash at the market. When it moves well above 100%, it's time to lean toward risk-off.

Where's it now? Approaching 140% and a new record high, according to Adem Tumerkan of Palisade Research. In our call of the day, he says that the indicator proves stocks are "extremely overvalued" and there's "huge downside ahead."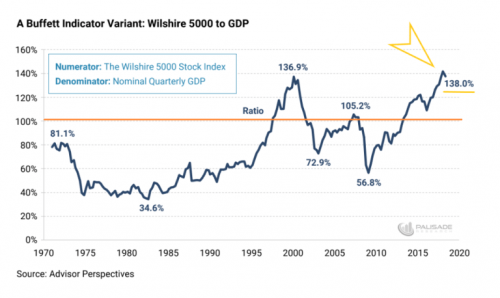 Big and bigger. As Apple becomes the first to join the trillion-dollar club, Nasdaq's market cap-to-GDP ratio is now rapidly approaching the bubble peak during the dotcom era. pic.twitter.com/U0Z0X6NmHj

— David Rosenberg (@EconguyRosie) August 2, 2018
Another way is the median price-to-sales ratio.

A valuation lens that tamps down the influence of the biggest companies highlights the danger. It's the median price-to-sales ratio for members of the S&P 500. The measure, which de-emphasizes giant companies like Apple Inc. and Exxon Mobil Corp. by focusing on the center of the index, stands at 2.63 right now, compared with 1.23 in February 2000, data compiled by Leuthold Group showed.
...
Back then, overvaluation was highly concentrated to tech giants. Right now, everything is expensive.

"For the last year, we have labeled the S&P 500 price/sales ratio - which has returned to its Y2K bubble levels - the 'scariest chart in our database,"' Ramsey wrote in a note last week. "The addition transforms an already alarming chart into one that's almost unfit for a family-friendly publication."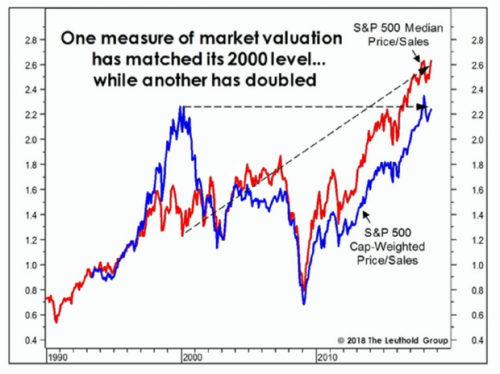 In less than three weeks, the stock market is likely to make history as the longest bull market on record - 3,543 days.
All of this and more (example: rising interest rates) point to a huge secular top in stocks, leading to a vast bear market.
And yet there is still one good reason to believe that the bull market can keep going.

Amid the fanfare of Apple reaching $1 trillion in market valuation, investors may be missing another more important milestone of the same dollar level.

Namely, U.S. companies appear poised to eclipse the $1 trillion mark in share buybacks this year, a pivotal record that will keep the stock market going even as many retail investors are beginning to fear equities, according to a Goldman Sachs analysis for clients.
...
"Corporate repurchases remain the largest source of demand for shares," wrote David Kostin, chief U.S. equity strategist at Goldman.

Kostin also noted that the year already has seen a wealth of buyback announcements, with companies authorizing $754 billion worth. History shows that there's typically an 85 percent follow-through rate, so that would add up to $640.9 billion worth with 20 percent of S&P 500 companies yet to report second-quarter earnings.
These stock buybacks look a lot like Dumb Money, but there is so much Dumb Money.