Something Old, Something New, Something Borrowed, Something Blue
Submitted by Cant Stop the M... on Sun, 11/17/2019 - 5:03am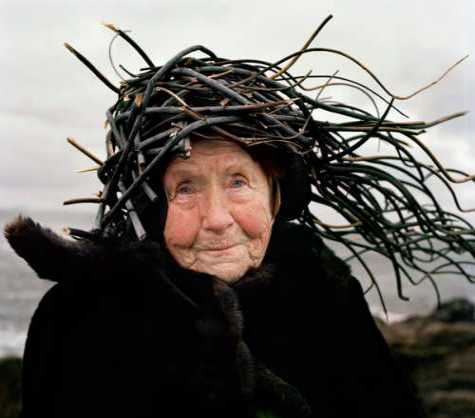 Take a look at humanity's oldest surviving book.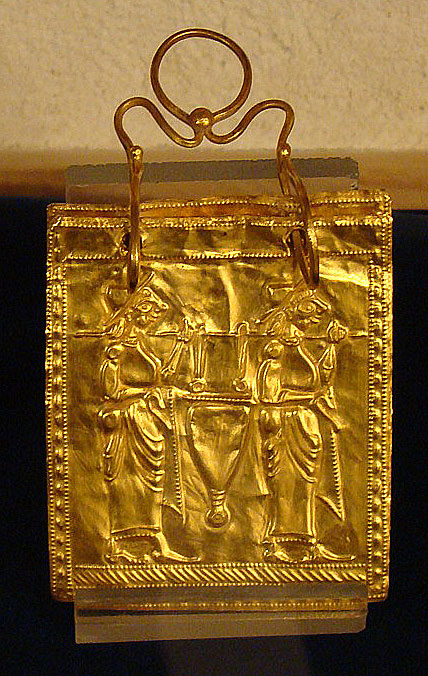 Well, OK. It's "thought to be the oldest multi-page book." Discovered 70 years ago in Bulgaria, it dates back to 660 B.C., which makes it around 2,673 years old. It's made out of 24-carat gold, and was created by the rather mysterious Etruscans, who apparently migrated from somewhere in what is modern-day Turkey to settle in Italy around 3,000 years ago.
On the other hand, there are those who doubt its authenticity:
Since the donor, specific location of the book's discovery, and verifying scientists are all anonymous or unknown, I guess it makes sense that some doubt its authenticity.
The next oldest book we've unearthed is also Etruscan, and has no doubts cast on its authenticity. The Pyrgi gold plates were discovered in an archaeological dig off the coast of Italy in 1964 (I guess it helps that we know the Etruscans were actually in Italy.)
They have been dated to be from around 500 B.C., which makes them 2,513 years old. Two are written in Etruscan and one in Phoenician. What is cool about this is that, since we know Phoenician, we can theoretically use the Phoenician version to help us decipher the Etruscan.
I don't know how we know that the Phoenician is a copy of the Etruscan, however. But I guess it makes sense that, since they were found together, come from the same time, and are made of the same substance, that they are at least on the same subject.
Here is a translation of the Phoenician text. It is a sacred text to Astarte, also worshipped in other places as Innana or Ishtar: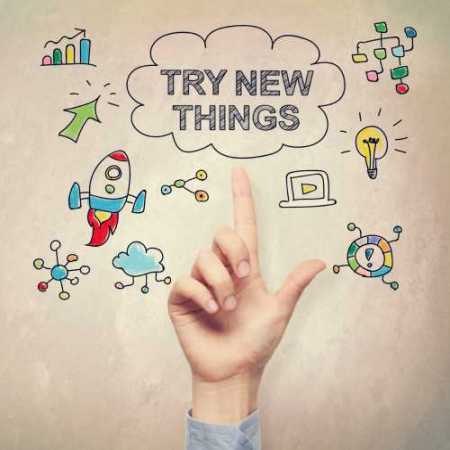 I don't know if I've yet recommended Seanan McGuire's InCryptid series to you all. It's an alternate history/fantasy series, in which mythical creatures actually exist, unknown to most of humankind, but are endangered because of a delightful organization called the Covenant of St. George, which believes it must protect humanity from the monsters by driving them (the monsters, not humanity) extinct. Our heroes are a renegade family who left the Covenant some generations prior to the action of the novels, because they came to understand the concept of an ecosystem. (I believe their realization occurred when, after the Covenant of St. George exterminated unicorns out of Britain, a cholera epidemic swept through London and killed lots of people. The unicorns, bloodthirsty and horrible though they were, had horns that purified water. Whoops.)
Here's the first novel in the series:
That one is from 2012, so it's not exactly "new," though it is in comparison with 2,000-year-old books engraved on gold plates, I guess. But what's actually new is the most recent addition to the series, which I just finished reading: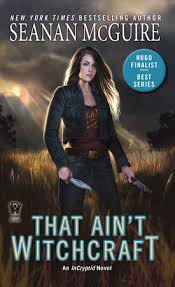 This one came out early this year, so I think it can be properly classed as "new."
Can't recommend them enough.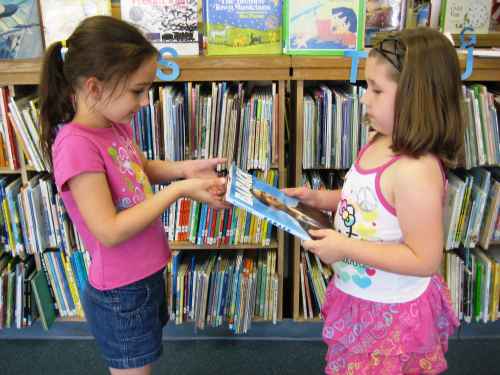 As gjohnsit pointed out in a recent FP essay, lots of countries, particularly in Latin America, have been borrowing Cuban doctors for quite a while. They also have gone to many other places in the developing world. This is a picture posted earlier this year of Cuban doctors who worked in post-cyclone Mozambique.
https://www.telesurenglish.net/news/Cuban-Doctors-Praised-for-Their-Work...
I wanted to do some more research into Cuba's international medicine program. Since these doctors have, unfortunately, become a target of counter-propaganda by the bastards running my country and most of the English-speaking world, I targeted my Google search on them to run from 2000 to 2010, to see what people said about them before they became a target. I found this 2010 article posted on the website of the World Health Organization:
https://www.who.int/bulletin/volumes/88/5/10-010510/en/
Well, we can't have that. Makes us look bad, showing us there's an alternative to bloody-handed economic extraction married to a fascist authoritarian international regime.
Hmph.
I was looking for a place to go, preferably with my family and dogs, from about Nov 1 2020 to March 1 2021. Not sure we'd have the money to do that, but I'd really rather not be around here during that time.
Realizing that taking the dogs overseas would be quite an endeavour (I won't put my dogs in a depressurized cargo hold, so they can't go on a plane, and there's only one ship that will take dogs between North America and Europe), I punted and went for somewhere not the U.S. in this hemisphere. Thought about Canada, and before that was nixed by Kate, who is more than usually susceptible to cold, I found this: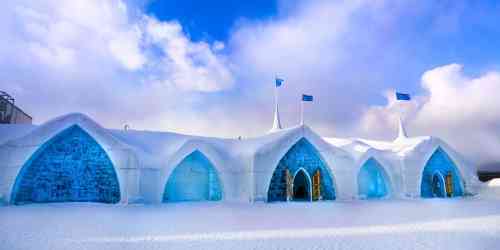 Meet the Hotel de Glace in Quebec City. It's a hotel entirely made from ice.
Not to make a terrible pun, but how cool is that?
They come decorated with beautiful ice carving: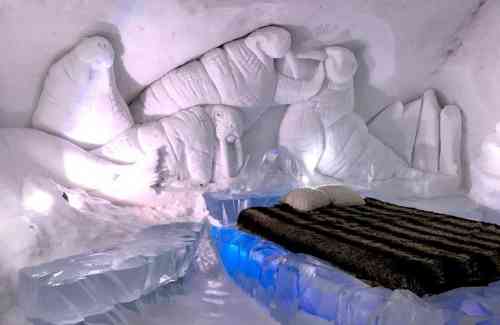 I'm not sure I'd ever stay there. I like cold a lot better than Kate does, and even better than Nick does--but not so much when I sleep.
How are you all doing today?
Also if you have any suggestions for where to go ON the North American continent that is sufficiently remote to make tuning out the election possible, post them in the comments! If I'm going to go on any kind of a trip, time to start planning now.