Something Old, Something New, Something Borrowed, Something Blue
Submitted by Cant Stop the M... on Wed, 01/31/2018 - 5:30am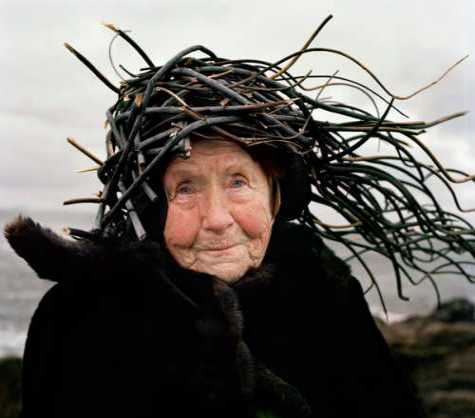 Today's Something Old is Newgrange, in Ireland.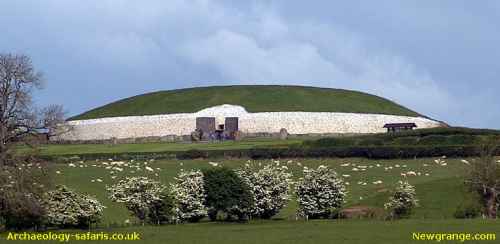 I've actually been there, been inside. It's what's known as a passage grave, from the neolithic period. (Although I just found out there is some controversy about this; some think it was actually a temple).
A passage grave (sometimes hyphenated) or passage tomb consists of a narrow passage made of large stones and one or multiple burial chambers covered in earth or stone. The building of passage tombs was normally carried out with megaliths and smaller stones; they usually date from the Neolithic Age. Those with more than one chamber may have multiple sub-chambers leading off from the main burial chamber. Sometimes passage tombs are covered with a cairn, especially those dating from later times. Not all passage graves have been found to contain evidence of human remains. The Passage Tomb tradition is believed to have originated in the French region of Brittany. It was introduced to other regions such as Ireland by colonists from Brittany.
Passage tombs of the cairn type often have elaborate corbelled roofs rather than simple slabs. Megalithic art has been identified carved into the stones at some sites.
https://en.wikipedia.org/wiki/Passage_grave
Newgrange itself consists of a large mound with a passage leading under it, or, rather, into it. The passage goes about a third of the way back into the mound, leading to a large central chamber with three chambers off it.
Here's a drawing by the chief archaelogist of the final Newgrange excavation, Dr. M. J. O'Kelly, showing the layout of the tomb:

The central chamber is where, at sunrise on the solstice, a "roof box," an opening above the door to the passage, lets the light of the returning sun flood the inner chamber.
This is what Newgrange is famous for. I went there in the summer; the waiting list for a winter solstice sunrise visit was unimaginably long even in 1995, when I went. But apparently, this year they livestreamed the event from inside the grave.
It is pretty amazing to me that people in 3200 BC made such precise astronomical calculations. It appears that later ancient sites from the Bronze Age, were aligned with Newgrange, which suggests that later people endowed Newgrange with some significance.
The complex was originally built between c. 3200 and 3100 BC. According to carbon-14 dates,it is about five hundred years older than the current form of Stonehenge, and the Great Pyramid of Giza in Egypt, as well as predating the Mycenaean culture of ancient Greece.
Geological analysis indicates that the thousands of pebbles that make up the cairn, which together would have weighed about 200,000 tonnes, came from the nearby river terraces of the Boyne.
But some of the stone came from considerably farther away:
Most of the 547 slabs that make up the inner passage/chambers and the outer kerbstones are greywacke. They may have been brought from sites about 5 km away,[22] and/or from the rocky beach at Clogherhead, County Louth, about 20 km to the north-east. The facade and entrance was built with white quartz cobblestones from the Wicklow Mountains, about 50 km to the south; dark rounded granodiorite cobbles from the Mourne Mountains, about 50 km to the north; dark gabbro cobbles from the Cooley Mountains; and banded siltstone from the shore at Carlingford Lough.[22] The stones may have been transported to Newgrange by sea and up the River Boyne by fastening them to the underside of boats at low tide.[23][24]
https://en.wikipedia.org/wiki/Newgrange
All this was a lot of trouble to go to, so I think we can concede that Newgrange, whatever it was for beyond simply housing the dead, was of considerable importance to the people who built it. If nothing else, look what they had to do to get those huge slabs of rock up the hill:
Then there's the following fact, which blows my mind:
None of the structural slabs were quarried, for they show signs of having been naturally weathered, so they must have been collected and then transported somehow largely uphill to the Newgrange site.[21]
https://en.wikipedia.org/wiki/Newgrange
It was the Stone Age. People in many places knew how to quarry stone, from Catalan to Wales. Are we to assume that these people didn't know how to quarry stone? There's a neolithic quarry in Knocknarea, which seems to make it unlikely that Newgrange's builders didn't know how to quarry stone.
If they did know how, why the blazes didn't they? Why source naturally weathered stone?
All questions I'd love to know the answers to, and probably never will.
I'm also fascinated by the art:
That's a stone at the entrance.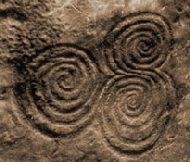 The art seems to have been done by many different people, because it was done at different levels of skill.
Here are some pictures of what Newgrange looked like before excavation. This is from 1910: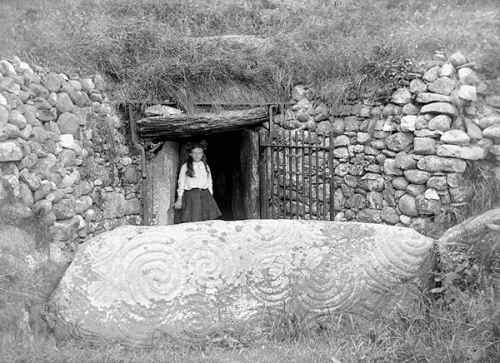 This is from the 1930s: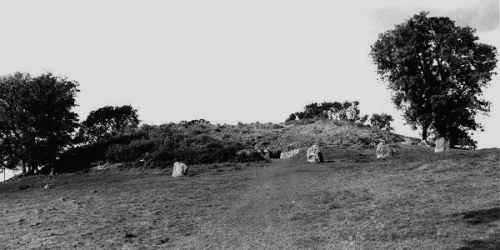 And this is from the 50s. Excavation began in the 1960s.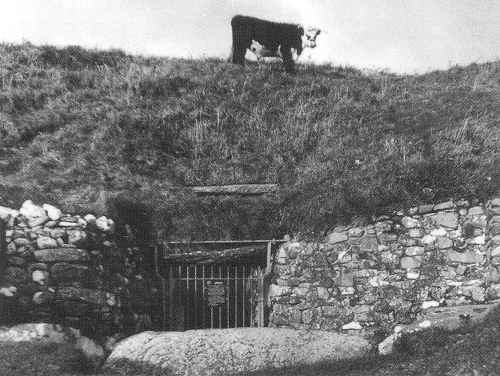 The striking quartz facing of Newgrange is, by the way, extremely controversial. It wasn't in the structure as the archaeologists found it. Rather, they found quartz crystal scattered thickly in front of the kerbstones. The head archaeologist believed that represented a collapsed wall:
Probably the greatest change seen during these restoration works was the addition of 3 m high quartz wall to the front of the tomb. This addition to the monument was based on M. J. O'Kelly's interpretation of the excavation results. He had discovered a thick layer of quartz stones spreading out in front of the tomb kerbstones for a distance of approximately 7 m, which he believed represented the remains of a collapsed wall. Thus on his advice a quartz facade was added to the tomb. However, as the quartz wall was deemed too unstable to support the weight of the cairn on its own, a 4 m high, reinforced steel and concrete wall had to be erected behind it. The quartz stones were then embedded into the concrete.

http://irisharchaeology.ie/2012/12/images-of-newgrange-through-the-ages/
I was with O'Kelly right up to the part about the quartz wall not being able to support the weight of the cairn. If that's true now, wouldn't it have been true then? And if it were true then, isn't it likely that they didn't have one?
Maybe that's why it collapsed!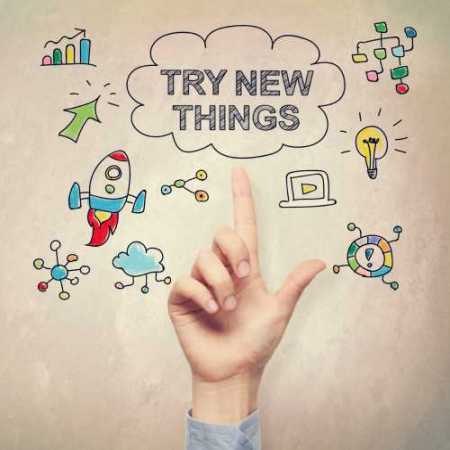 I'm very fond of the artist Steven Kenny. It's one of those things where I feel a small pang when I see another wonderful work bought, and know I'll never have it. I don't often feel that way about material things--usually only antiquarian book fairs can bring that out in me. I get upset that I can't go places and experience things, generally, not that I can't own objects.
But I really love his paintings. He's not new--he's been painting since the early 90s--but these are his newest paintings: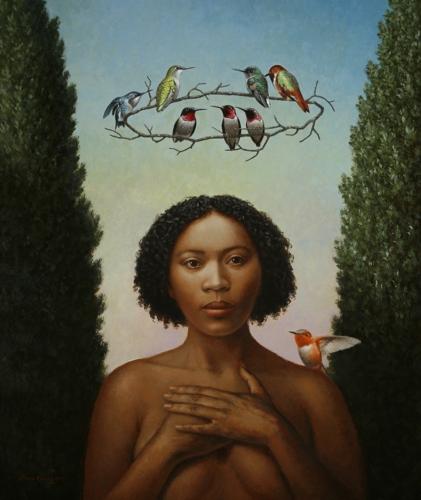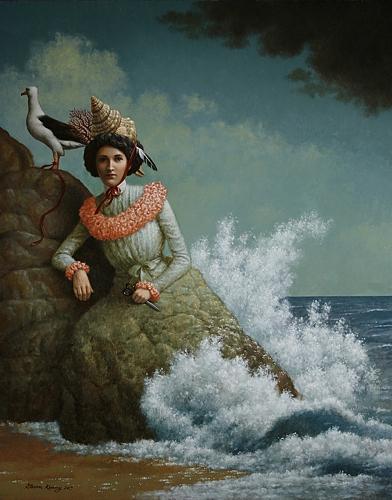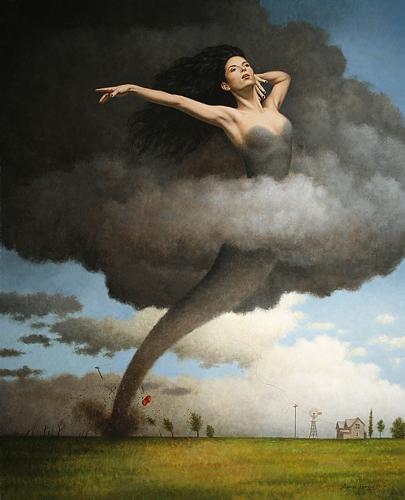 I don't like every bit of surrealism I've ever seen, but I like his.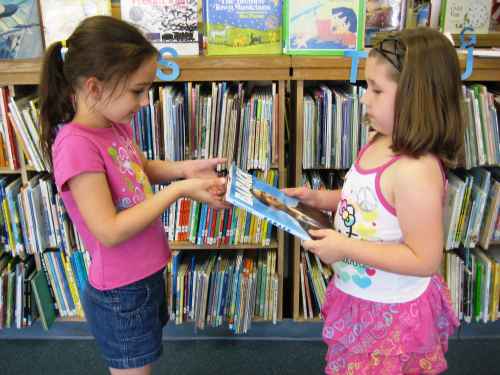 This is the weirdest loanword I've ever heard of: we get the word "alcohol" from Arabic.
So, how did we end up borrowing the term for liquor from a culture that doesn't even drink? According to the Online Etymology Dictionary, the word comes from the old Arabic word for eyeliner, "al-kuhul." In those days, "kohl" was made of finely powdered antimony produced by the chemical process of sublimation:

http://www.k-international.com/blog/10-surprising-words-the-english-lang...
OK, how did we get from eyeliner to my beer?

"Powdered cosmetic" was the earliest sense in English; definition broadened 1670s to "any sublimated substance, the pure spirit of anything," including liquids."
All right, the English of the Restoration were just plain weird. How do you get from "powdered cosmetic" to "the pure spirit of anything?" Maybe it was based on the process the substance was subjected to. But it seems weird as hell to me!
OK, just done a bit more research, and I think I found the missing step. It wasn't till the 18th century that the British were using the word to refer to drink:
Paracelsus (1493-1541) used the word to refer to a fine powder but also a volatile liquid. By 1670s it was being used in English for "any sublimated substance, the pure spirit of anything," including liquids. Sense of "intoxicating ingredient in strong liquor" is first recorded 1753, short for alcohol of wine, which was extended to "the intoxicating element in fermented liquors."
https://www.etymonline.com/word/alcohol
The intervening step of "alcohol of wine," or the active ingredient in wine, makes it less counterintuitive to me.
Apparently, there is a Russian blue cat:
Russian Blues are plush short-haired, shimmering pale blue-gray cats with emerald green eyes. Guard hairs are distinctly silver-tipped giving the cat a silvery sheen or lustrous appearance...They develop close bonds with their owners and are sought out as pets due to their personalities, beauty and coat. It is their short, dense coat which has been the hallmark of the Russian breed for more than a century. The dense coat stands out from the body and one can draw patterns in the coat that will stay until one smoothes them out again. They are also considered to be hypoallergenic.
The "blue" color comes from a recessive gene that creates a diluted appearance of black fur. As with many supposedly "blue" animals and plants, they look more gray, or perhaps silver, to me, than blue. But your mileage may vary. They are, at any rate, beautiful:
This one has a blue tint.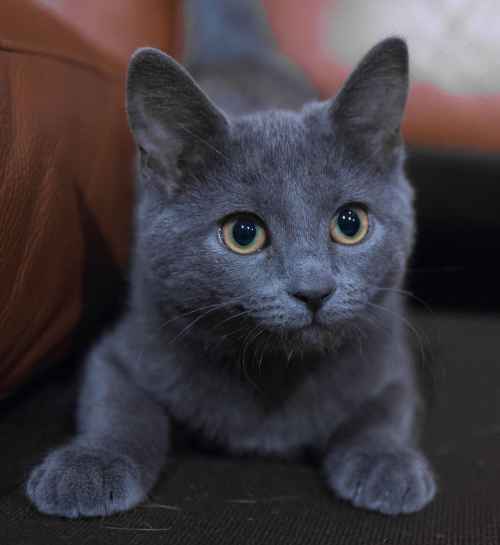 And this kitten certainly does!
But I'm not so sure about this kitty.
Dear gods, I have entered the realm of internet cat pictures!
How are you all today?