Socialism is no longer a scary word
Submitted by

gjohnsit

on Fri, 11/10/2017 - 6:21pm
Tickets to Hamilton on Broadway are hard to get, but recently there was an event in which tickets were near impossible to get.

The first run of tickets to "Capitalism: A Debate" sold out in a day. So the organizers, a pair of magazines with clear ideological affiliations, socialist Jacobin and libertarian Reason, found a larger venue: Cooper Union's 960-capacity Great Hall, the site of an 1860 antislavery speech by Abraham Lincoln. The event sold out once again, this time in eight hours.
Generally the mainstream news media, and especially anything right-wing, like to portray millennials as stupid kids who don't know any better.
But deep in this article is a clue that shows the kids may be a lot smarter than those who wag their fingers at them.

Chibber argued that the problem with capitalism is the power it has over workers. With the weakening of U.S. labor unions, "we have a complete despotism of the employers," he said, leading to stagnant wages. When Mangu-Ward countered that Americans aren't coerced on the job, the crowd erupted in laughter. "Every morning you wake up and you have a decision about whether or not you're going to go to work," she insisted, and the audience laughed again.
Not only are the kids smart enough to recognize political dogma when they hear it, but unlike those who dish out the dogma that doesn't resemble reality, they want to hear all sides of the debate.
I find it very refreshing and amusing that the kids can see right through the BS that so many of their elders blindly believe - capitalism and democracy are incompatible.
Which is why you hear the most anti-democracy rhetoric from the capitalists. They want you to believe that night is day and black is white and capitalism is freedom.
Young Americans have soured on capitalism. In a Harvard University poll conducted last year, 51 percent of 18-to-29 year-olds in the U.S. said they opposed capitalism; only 42 percent expressed support. Among Americans of all ages, by contrast, a Gallup survey last year found that 60 percent held positive views of capitalism.
The National Review warns: Socialism's Rising Popularity Threatens America's Future
The NY Times asks: Why Are So Many Young Voters Falling for Old Socialists?
TPTB are starting to get nervous.
If history is any guide, there will soon be a false flag attack that will be blamed on "radical socialists", followed by a brutal police crackdown.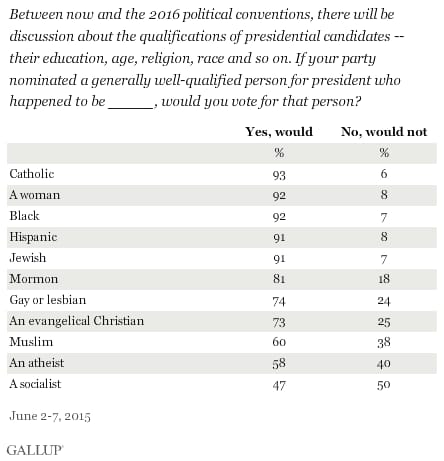 The MSM is right about one thing: socialism is on the rise.

Before the presidential primary season kicked off in 2014, DSA had just 6,000 members and about 30-40 local chapters nationwide. Just after Trump's inauguration in January 2016, the number of active DSA members had ballooned to 20,000 and has continued to grow at a rapid click.
As of last week, DSA had more than 31,000 members with 145 chapters or committees to form chapters around the country, as well as 57 Young Democratic Socialist (YDSA) groups on high school and college campuses, according to senior DSA officials.