Seems Like There Might Be a Pattern Here...
Submitted by

WoodsDweller

on Tue, 12/05/2017 - 8:33pm
...but I can't quite put my finger on it. Maybe it has something to do with excessive golf outings? Or Big Mac binges? Or disrespecting women? I tell you folks, I'm just baffled.
16 March, 2017
Trump proposes $54 billion defense spending hike
Released as part of Trump's $1.1 trillion budget outline for 2018, the 10% boost to the military comes at the expense of deep cuts to non-defense spending
22 May, 2017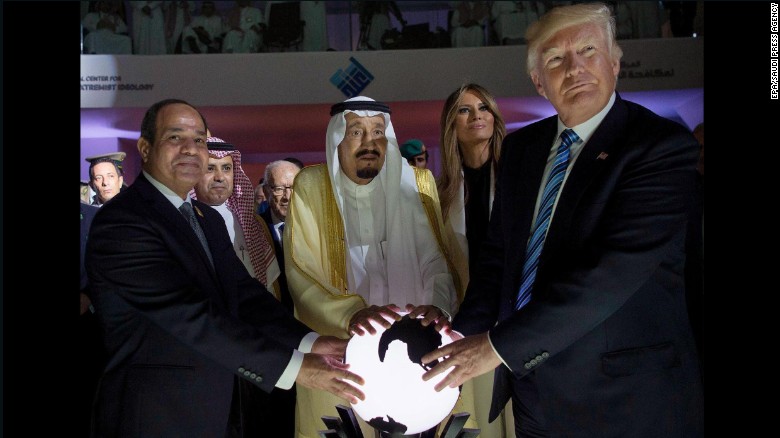 Trump Touches Orb
Trump attended the opening of the Global Center for Combating Extremist Ideology on Sunday alongside his host, Saudi King Salman bin Abdulaziz Al-Saud, and Egyptian President Abdel Fattah el-Sisi
6 October, 2017


Trump's Cryptic Message
"You guys know what this represents? Maybe it's the calm before the storm," Trump said, following a meeting with his top military commanders.
13 October, 2017
Trump threatens to rip up Iran nuclear deal
"Based on the factual record I have put forward, I am announcing today that we cannot and will not make this certification. We will not continue down a path whose predictable conclusion is more violence, more terror and the very real threat of Iran's nuclear breakout," Trump said at the White House.
4 November, 2017
Saudi Purge
Saudi Arabia's King Salman embarked on the most sweeping crackdown yet of his reign, ordering security forces to arrest senior princes including one of the world's richest men and driving out one of the most prominent officials from his ministerial role. ... clearing any remaining obstacles to his son's ascension to the throne ... Security forces arrested 11 princes, four ministers and dozens of former ministers and prominent businessmen ...
16 November, 2017
Saudis Try to Starve Yemen Into Submission
Yemen would suffer "the largest famine the world has seen for many decades, with millions of victims" if Saudi Arabia did not immediately allow food and medicine to be offloaded ... Saudi Arabia tightened its blockade against Yemen on Nov. 5 after Iran-backed Houthi rebels threatened Riyadh with a ballistic missile ... not nearly enough to get urgently needed food to nearly seven million Yemenis facing famine.
16 November, 2017
Congress passes $700 billion defense bill
The Senate passed the National Defense Authorization Act for fiscal year 2018 by a voice vote on Thursday, sending the nearly $700 billion defense policy bill to President Donald Trump's desk for his signature.
A bipartisan compromise that was passed by the House on Tuesday after a series of congressional negotiations, the annual bill would authorize nearly approximately $626.4 billion in base budget authority and roughly $65.7 billion for Overseas Contingency Operations.
28 November, 2017
Rex Tillerson: we will soon solve global conflicts
Rex Tillerson said on Tuesday that the Trump administration's proposal to slash the state department and foreign aid budget is in part based on an expectation it will be able to resolve some of the global conflicts that have been absorbing costly diplomatic and humanitarian support.
5 December, 2017
Trump OKs move of embassy to Jerusalem
President Donald Trump will recognize Jerusalem as the capital of Israel on Wednesday and direct the State Department to begin the process to move the US embassy from Tel Aviv to Jerusalem
Update: 13 October, 4 November