Poll: Public overwhelmingly believes in pro-Hillary bias
Submitted by gjohnsit on Tue, 11/01/2016 - 2:02pm
The news media isn't fooling anyone.

The American public thinks the media wants Democratic presidential nominee Hillary Clinton to win by an almost 10-to-1 margin, according to a new poll.
The Suffolk University/USA Today poll released Friday asks, "Who do you think the media, including major newspapers and TV stations, would like to see elected president: Hillary Clinton or Donald Trump?"
Of the 1,000 adults surveyed, 75.9 percent answered Clinton, while just 7.9 percent picked Trump, the Republican nominee. Just more than 16 percent of respondents chose either "neither" or "undecided."
The Suffolk University/USA Today poll comes on the heels of an Associated Press/GkF poll last week showing that 56 percent of likely voters, including 87 percent of his supporters, believe the media is biased against Trump.
In that poll, 51 percent of Clinton supporters said the media is biased in her favor, while just 8 percent said it's biased against her.
Obviously the news media has thrown all pretense of unbiased reporting aside.
It isn't just opinion. There are hard numbers.

The Hill reported that in viewing recordings "of each major network's evening newscasts, which are watched by an average total of 22 million to 24 million people nightly, the newest batch of WikiLeaks revelations was covered for a combined 57 seconds out of 66 minutes of total air time on ABC, NBC and CBS. … On the other hand, allegations from four women of unwanted sexual advances by Trump were covered a combined 23 minutes."
And then there is coverage of Comey.

The Washington Post editorial board demonstrated perhaps the most stunning reversal. The July headline: "Republicans attack Mr. Comey for doing his job". And following his announcement Friday: "The damage Comey's bad timing could do".
In July, The Huffington Post went so far as to levy blogging's most overused trope, "dismantled" in a headline. "FBI Director Dismantles Most Damaging Claims Against Clinton," followed by the ever-measured "Presidential Election Not Total Chaos."
Now, The Huffington Post appears to be having a complete meltdown.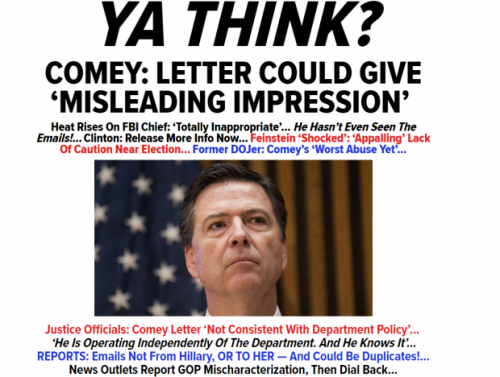 And then there is the corruption.

The ongoing WikiLeaks dump of a top Hillary Clinton lieutenant's emails is shining a light on the cozy and often improper relationship key members of the press had with the Democratic presidential nominee's campaign.
Advance notice of debate questions, the promise of positive coverage, and even editorial control over stories are among the eyebrow-raising revelations in emails to and from campaign chairman John Podesta.
"We have had her tee up stories for us before and have never been disappointed," a January 2015 memo said of former Politico and current New York Times reporter Maggie Haberman.