A perfect symbol for today's political environment
Submitted by

gjohnsit

on Tue, 10/10/2017 - 5:30pm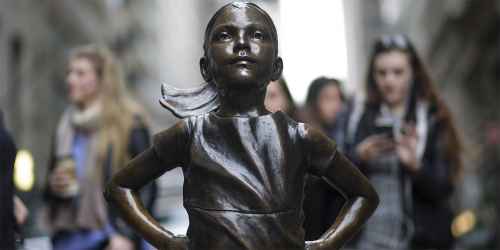 Just two weeks ago, this was the headline:
'Fearless Girl' Dominates the Clios, Winning the Grand Clio in 5 Categories
McCann New York is named Agency of the Year
Feminists embraced this bronze symbol.

Fearless Girl is a powerful symbol to women young and old. Empowering women shouldn't be temporary - she must be a permanent piece of NYC pic.twitter.com/wsZLYQr3Ez

— NYC Public Advocate (@NYCPA) March 27, 2017
Every liberal around immediately fell in love with the statue.

Here is the narrative being spun about "Fearless Girl": An advertising firm and a financial services firm got together to drop a "remarkable," "guerrilla" sculpture of a young girl in front of Wall Street's famous "Charging Bull" in the middle of the night. The girl is part of a campaign to encourage companies to increase the number of women on their boards. The girl "is a remarkable evolution for Wall Street." The girl might even represent "the turning point of gender equality in corporate America." The girl "celebrates all the people who resisted by staying in place." If installed permanently, the girl would be "a constant source of strength" for women who work in the vicinity.
There was just one eensy little problem - it was all bullshit.

As it turns out, the bronze statue was a symbol ― not of girl power, but of the empty corporate feminism that Wall Street has managed to turn into an art form and that first daughter Ivanka Trump has ridden all the way to the White House.
On Thursday, State Street, the $2.6 trillion dollar investment firm that funded Fearless Girl and unveiled her to great fanfare on International Women's Day in March, agreed to shell out $5 million to settle claims that it pays its female and black executives less than white men at the firm.
The real give-away of the phoniness in this gesture was never hidden. All you had to do was look at the Wikipedia page.

The plaque below the statue states, "Know the power of women in leadership. SHE makes a difference," with "SHE" being both a descriptive pronoun and the fund's NASDAQ ticker symbol.
It gets funnier. Check out this article.

At least two locally based companies earned votes against their board members from State Street Corp. this year because they did not have any women on their board of directors, according to an analysis of new securities filings.
As if State Street was in any position to judge anyone else.