People have no idea just how bad things are going to get
Submitted by gjohnsit on Mon, 03/30/2020 - 2:34pm
Just how bad will it get?
Symbolically, this is a good indication.

Thomas Schaefer, the finance minister of Germany's Hesse state, has committed suicide apparently after becoming "deeply worried" over how to cope with the economic fallout from the coronavirus, state premier Volker Bouffier said on Sunday.
The economic fallout could be catastrophic, and it could be sooner than you think.

Social unrest could erupt among the poorest people in Europe's biggest cities due to a lack of income caused by the coronavirus crisis, a Red Cross chief warned...
Speaking in a UN news briefing, he said: 'We have a lot of people who are living very marginalised, in the so-called black hole of society... In the most difficult neighbourhoods of the biggest cities I am afraid that in a few weeks we will have social problems.

'This is a social bomb that can explode at any moment, because they don't have any way to have an income.'
If they are saying this about the poor of Europe, what do you think will happen in a 3rd world nation like the United States, where the heavily-armed poor are an afterthought?
Now let's put some numbers behind this.

The head of the International Monetary Fund said Friday it is clear that the global economy has now entered a recession that could be as bad or worse than the 2009 downturn...

"A key concern about a long-lasting impact of the sudden stop of the world economy is the risk of a wave of bankruptcies and layoffs that not only can undermine the recovery but erode the fabric of our societies," she told reporters at a news conference following a telephone conference with finance officials from the 24 nations that make up the IMF's policy-setting panel.
Are you starting to see a pattern here?
Let's look at the impact specifically to America and the off-the-charts impact to employment.
Nothing like this has ever happened before.
And yet things will only get worse this week.
The impact on workers is almost beyond belief.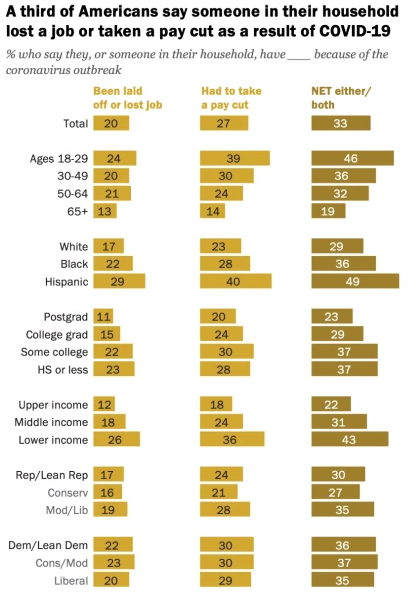 It's impossible to overstate how much misery this will cause.
So you can imagine what that'll do to the economy.
How has our government responded to this economic catastrophe?
By making the National Guard active in 22 states.
So starve in silence you poor f*cks or we'll have other poor people shoot you.
But planners involved at the Pentagon and U.S. Northern Command, while admitting that the National Guard is the best choice if there is a public breakdown, also say that the Guard may not be able to be relied upon, not just because of the scope of need, but also because it is a citizen force spread out across America and thus as susceptible as the rest of the general population to contracting the virus.

A senior military planner working on coronavirus but not authorized to speak on sensitive planning matters says that deployment of federal troops in support roles is being prepared.
In this unprecedented economic crisis is an unprecedented bipartisan political failure.
On one side you have former Tea Party leaders supporting the corporate bailout.
On the other side you have anti-establishment progressive leaders supporting the corporate bailout.
Neither party cares whether you live or you die.
The odds that we will avoid social unrest and violence is near zero.