The Partitioning Of Syria
Submitted by

gjohnsit

on Sun, 09/10/2017 - 7:14pm
US-Led Coalition 'Will Not Allow' Syrian Army To Cross Euphrates River In Deir Ezzor – Reports https://t.co/YKhjCxL4Lq pic.twitter.com/JnpURxonhN

— SouthFront (@southfronteng) September 9, 2017
Reports that the U.S. has effectively partitioned Syria at the Euphrates River are still unconfirmed.

Meanwhile, a member of the SDF-linked Raqqa Civil Council claimed that Major General Robert Jones, Deputy Commander-in-Chief of the US-led coalition, said in a meeting that the US-led coalition will not allow the regime forces to bypass the Euphrates River.
Others even claimed that Jones threatened to strike any units of the Syrian Arab Army (SAA) if it crossed the Euphrates River. However, none of these claims have been confirmed by the US-led coalition so far.
So its just a rumour, right? No reason to be concerned?
There is one little thing.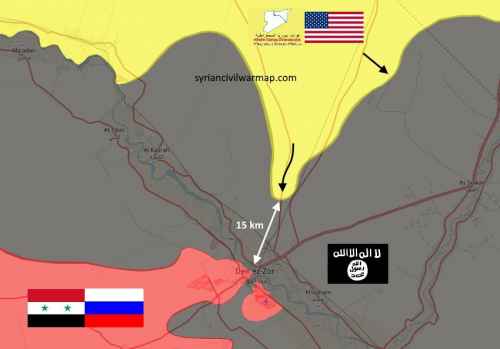 US-backed forces and Syrian government troops, supported by Russia and Iran, look set to come into contact as they each make separate advances against Isis in Syria.
The Syrian Democratic Forces (SDF) launched an offensive against Isis along the border with Iraq on Saturday, bringing them into a race with government forces marching in the same direction against the extremists.
The duelling battles for Deir Ezzor highlight the importance of the oil-rich eastern province, which has become the latest focus of the international war against Isis, raising concerns of an eventual clash between the two sides.
The only reason for this sudden military offensive is to prevent the Syrian army from advancing.
This would not be the first example of us imposing de facto partitioning.
Israel and the neoconservatives want Syria partitioned.
Syrian Kurds want autonomy.