Our sanctions have only negative outcomes
Submitted by gjohnsit on Sun, 03/22/2020 - 11:18pm
This was an unusual headline to see on the NY Times.
Paradoxically, however, those sanctions and the policies Russia enacted in response prepared the Kremlin for what came this month: a universal dislocation of the global economy from the coronavirus pandemic and an oil price war that led to a collapse in oil prices and the revenues that Russia relies upon to support social spending.
Far from being a basket case, Russia enters the crisis with bulging financial reserves, its big companies nearly free of debt and all but self-sufficient in agriculture. After Russia was hit with the sanctions, President Vladimir V. Putin's government and companies adapted to isolation and were virtually forced to prepare for economic shocks like the one hammering the global economy today.
Like our wars, even if you can justify imposing the sanctions on moral grounds, you can't justify the results.
If what you are doing is helping your enemies then you can either stop doing it, or you can admit that you are intentionally undermining your nation.
Speaking of moral grounds.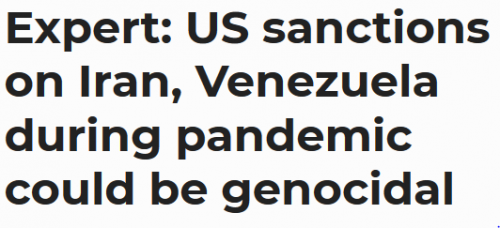 They concluded that in a best-case scenario — in which the government quarantines all high-risk areas, people strictly obey quarantine rules, and access to sufficient medical supplies is guaranteed — the country would reach the peak of the epidemic in roughly one week, and the death toll would exceed 12,000.

Yet that scenario is unrealistic in all three instances: The government can't impose quarantine, people will not obey quarantine rules, and the medical supply situation is catastrophic thanks to US sanctions and chronic mismanagement.

Accounting for those realities, the researchers estimate Iran will not reach the peak of the epidemic until late May, and they estimate as many as 3.5 million people could die as a result.
The Armenian Genocide didn't kill so many.
There is no moral justification for denying medical supplies during a pandemic.
URGENT

Iranian care personnel are courageously battling #COVID19 on frontlines

Their efforts are stymied by vast shortages caused by restrictions on our people's access to medicine/equipment

Most urgent needs are outlined below

Viruses don't discriminate. Nor should humankind pic.twitter.com/GpXCbsh001

— Javad Zarif (@JZarif) March 12, 2020
When it comes to helping other nations, its the countries that we demonize that lead the way.

The Italian government lamented that "not a single EU country" has responded to its request for medical equipment — unlike China, which immediately helped.

And it is not just Italy; Britain has also relied on Cuba to help it battle the contagious virus.
In response to the crisis, Lombardy's government requested that China, Cuba, and Venezuela send doctors and other medical personnel to help to contain the outbreak.

"We are in touch with Cuba, Venezuela, and China, who have made doctors available," said Lombardy's health minister, Giulio Gallera, in a press conference.