Open Thread WE 10 AUG ~ Strike
Submitted by QMS on Wed, 08/10/2022 - 6:30am
~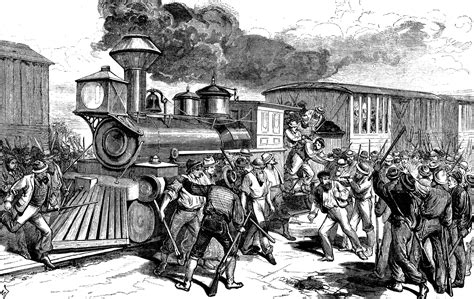 First US general strike in 1877 showed power of labor
~
The "Great Strike" of 1877, sparked by starvation wages and brutal working conditions, started among rail workers and then drew in more than half a million others. It alarmed the capitalist rulers. Federal, state and city governments unleashed troops, cops and gangs of thugs on strikers, cheered on by the bosses' press. Karl Marx wrote that this mighty class battle "could very well be the point of origin for the creation of a serious workers' party."
~
Unions became better organized as well as more competent, and the number of strikes increased. The Knights of Labor grew to be a national organization of predominately Catholic workers, numbering 700,000 by the early 1880s. In the 1880s nearly 10,000 strike actions and lockouts took place. In 1886 nearly 700,000 workers went on strike. Business leaders strengthened their opposition to the unions, often firing men who tried to organize or join them. Nonetheless, the labor movement continued to grow.
~
The strike reached East St. Louis, Illinois, then a busy railroad hub, on July 22 and crossed the Mississippi into St. Louis proper the following day. Seizing on popular support for the action, members of the socialist Workingmen's Party (WPUSA) organized a general strike that brought the city to a screeching halt. The strike's demands grew alongside it, having begun with a focus on an end to child labor and an eight-hour work day and then expanding to include calls for the nationalization of railroads, the provision of food to strikers and several other political, economic and monetary reforms. Within days strikers found themselves in charge of much of the city, and the WPUSA's Executive Committee attempted to form a workers' council made up of WPUSA members and labor leaders. Though it's relatively little-known in modern-day America, this was a momentous step in socialist and labor-oriented politics; it was one of the first of its kind, now seen as a precursor to later workers' councils (called "soviets" in Russian, this model had some success, especially in St. Petersburg, in the 1905 Russian Revolution and, of course, took on new meaning shortly thereafter).
~
The time is getting ripe for another show of force by the workers of the US and other nations to diminish the powers of corporate elites. Wage stagnation, climbing inflation, loss of benefits and extreme income discrepancy is a potent
brew. What are chances of forming a more perfect union?
~
Credits ~
https://themilitant.com/2021/05/15/first-us-general-strike-in-1877-showe...
https://laborguild.com/2020/07/16/this-week-in-labor-history-vol-8-the-g...
https://brewminate.com/labor-organization-and-the-great-railroad-strike-...
https://www.thoughtco.com/great-railroad-strike-of-1877-1773903
~
Open thread so post away on whatever moves you.
~