Open Thread 20 OCT 21 ~ Eugene Debs
Submitted by QMS on Wed, 10/27/2021 - 5:00am
.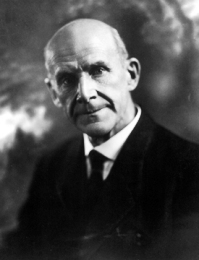 .
Your honor, years ago I recognized my kinship with all living things, and I made up my mind that I was not one bit better than the meanest on the earth. I said then and I say now, that while there is a lower class, I am in it; while there is a criminal element, I am of it; while there is a soul in prison, I am not free.
– Eugene V. Debs, Statement to the Court, while being convicted of violating the Sedition Act (Sept. 18, 1918)
~
Welcome to today's open thread. This is inspired by a chapter in Chris Hedges America: The Farewell Tour. A hundred years ago there was a growing socialist movement, anti-war and challenging the corporatist take-over of democracy. Lest we forget ..
.. all things that are jointly needed and used ought to be jointly owned -- industry, the basis of our social life, instead of being the private property of a few and operated for their enrichment, ought to be the common property of all, democratically administered in the interest of all ..
~
In other news ..
The price of truth: Al Jazeera marks 25 dangerous years.
The dangers faced by Al Jazeera included multiple threats to shut down its bureaus and the killing or detention of its front-line journalists. They ranged from phone hacking and network-wide cyber-attacks, to state-sanctioned satellite scrambling and outright aerial bombardments on bureau locations.
An Israeli missile strike destroyed Al-Jalaa Tower, which housed Al Jazeera's office in Gaza, and several other offices and residential apartments.
and for you techies ..
China achieves quantum computational advantage in two mainstream technical routes.
The quantum computing system of "Jiuzhang" can carry out large-scale GBS 100 trillion times faster than the world's fastest existing supercomputer. Meanwhile, with an improved average readout fidelity of 97.74 percent, "Zuchongzhi 2.1" can perform large-scale random quantum circuits sampling about 10 million times faster than the fastest existing supercomputer.
https://news.cgtn.com/news/2021-10-26/China-achieves-quantum-computation...
~
~
Open thread so post away your blues, greens and reds. Covid comments should go on the dose thread found in a parallel universe under open threads. Thanks!
~