Open-Air Slave Markets Return to Libya
Submitted by

gjohnsit

on Sat, 04/15/2017 - 8:18pm
Check Hillary Clinton's web site and you will find a page defending her 2011 endorsement of regime change in Libya. During the campaign she did "not see the Libya intervention as a failure, but as a work in progress."
Obama even ordered Libya to be bombed during the 2016 Democratic Convention, to put an exclamation point on the issue.
No matter how you cut it, the situation in Libya is because of the Democratic Party establishment, and the Democratic establishment continues to defend the military intervention.
Which makes this news story so depressing.

West African migrants are being bought and sold openly in modern-day slave markets in Libya, survivors have told a UN agency helping them return home.
Trafficked people passing through Libya have previously reported violence, extortion and slave labour. But the new testimony from the International Organization for Migration suggests that the trade in human beings has become so normalised that people are being traded in public.
"The latest reports of 'slave markets' for migrants can be added to a long list of outrages [in Libya]," said Mohammed Abdiker, IOM's head of operation and emergencies. "The situation is dire. The more IOM engages inside Libya, the more we learn that it is a vale of tears for all too many migrants."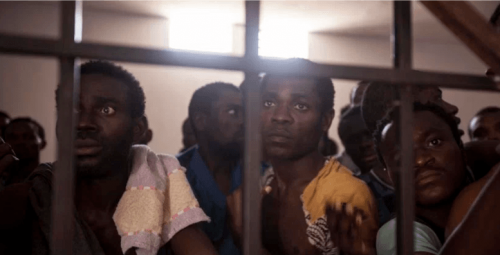 Libya has a long history of a slave trade, but I think everyone was hoping those days were over.

"Several other migrants confirmed his story, independently describing kinds of slave markets as well as kinds of private prisons all over in Libya," Manente said. "IOM Italy has confirmed that this story is similar to many stories reported by migrants and collected at landing points in southern Italy, including the slave market reports. This gives more evidence that the stories reported are true, as the stories of those who managed to cross-match those who are returning back to their countries."
After his sale, the Senegalese migrant was taken to a makeshift prison of a kind that has been well documented in Libya. Those held inside are forced to work without pay, or on meagre rations, and their captors regularly call family at home demanding a ransom. His captors asked for 300,000 west African francs (about £380), then sold him on to a larger jail where the demand doubled without explanation.
Men who lingered there too long without the ransom being paid were taken away and killed, he said. Some wasted away on meagre rations in unsanitary conditions, dying of hunger and disease, but overall numbers never fell. "If the number of migrants goes down, because of death or someone is ransomed, the kidnappers just go to the market and buy one," Manente said.
Remember that we bombed Libya to prevent a genocide that wasn't happening, and to prevent human rights violations that our Libyan allies were committing.
In 2010 Libya had the highest standard of living, the lowest infant mortality and the highest life expectancy in Africa. Libyans enjoyed free health-care and free education.