Obamacare still collapsing
Submitted by

gjohnsit

on Mon, 04/17/2017 - 6:39pm
Last year was a bad year for Obamacare. This year Obamacare might simply stop being available in many areas.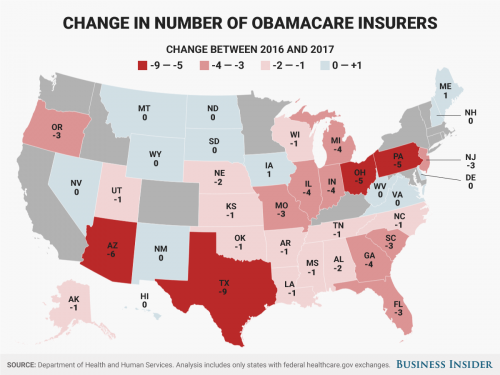 Parts of the country are in jeopardy of not having an insurer offering Obamacare plans next year.
Humana announced this year that they'd be leaving the markets altogether next year. That means there are parts of Tennessee that will have no insurance options unless another insurer decides to enter.
And Anthem, which operates in 14 states, is getting nervous, an industry analyst told Bloomberg News this week. Its departure would be a much bigger problem. According to an analysis of government data by Katherine Hempstead at the Robert Wood Johnson Foundation, Anthem is currently the only insurance carrier in nearly 300 counties, serving about a quarter of a million people.
As you can see on our map of those counties, an Anthem departure could leave coverage gaps in substantial parts of Georgia, Missouri, Kentucky, Ohio and Colorado, as well as smaller holes in other states. In places where no insurance company offers plans, there will be no way for Obamacare customers to use subsidies to buy health plans.
Without an option for affordable coverage, they would become exempt from the health law's mandate to obtain coverage. A result could be large increases in the number of Americans without health insurance.
Even those maps above failed to show how Obamacare in Iowa is collapsing.

A second big shoe just dropped on Iowa's Obamacare marketplace.
Three days after Wellmark Blue Cross & Blue Shield said it would not sell new individual health insurance plans in Iowa in 2018, Aetna on Thursday said it also will not offer new Obamacare plans next year, citing "financial risk."
The moves leave Iowa with just two other insurers that, as of now, sell Obamacare plans in the state.
A third Iowa insurer, Medica, told CNBC is has not yet decided whether to continue selling plans there next year.
President Trump is threatening to hold back cost-sharing-reduction payments from the ACA in order to force Democrats to negotiate. This would essentially implode Obamacare for much of America.

If the CSR payments were to disappear, it would cause chaos in the healthcare marketplace, The Kaiser Family Foundation's Levitt said....
According to a recent study from Kaiser, to make up for the loss of CSR payments, insurers would have to jack up the price of premiums by an average of 19% more than the current projected increase for 2018. That would vary widely by state — from 9% over the current baseline in North Dakota to 27% above current projections in Mississippi.
Note the words "more than" in that statement.
as in a 19% increase in premiums on top of the regular increase in premiums.
The real kicker is that the decisions for insurers to declare in the next few weeks whether they're in or out.
This will be happening at the exact same time as a federal government shutdown.