Medicaid is Trump's electoral blindspot
Submitted by gjohnsit on Sun, 01/26/2020 - 7:57pm
Health care is the #1 issue with voters.
Forty-five percent of Democrats, 30 percent of Republicans and 31 percent of independents chose health care as their top issue from six options, including the economy, education, environment, foreign policy and immigration. Sixty-two percent of respondents ranked health care as either their top or number two issue...

A majority of respondents, 67 percent, agreed either with the statement "the system is broken; we need a completely new system" or "the system is not working well; we need to improve the system we have now."
...The stark truth, then, is that seven times as many Americans consider the system irredeemable as those who believe it's working so well that change is unnecessary.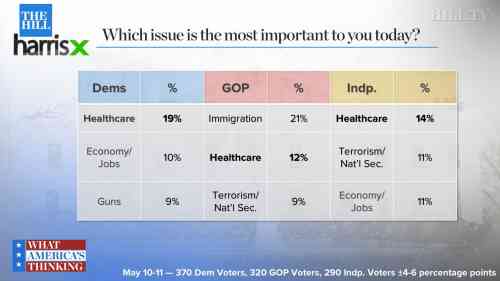 Even Republicans, if they are poor, want the government to step in and fix the system.

Most pointedly, Republican voters vary substantially by income on the question of whether the government should make it a priority to make sure everyone has health coverage. Fifteen percent of Republicans in the top 1% say that this should be a very important priority. Three times as many — 48% — of the lowest-income Republicans agree with that statement.

This may indicate that Republicans need to address health care concerns among some of their voters, as Democratic presidential contenders continue to champion various paths to universal health insurance coverage.

"If you look at those results, you would think that Republicans are going to have to pay particular attention to our care issue — the fact that they have a core constituency that really worries about they're not having adequate coverage for it," Harvard's Blendon said.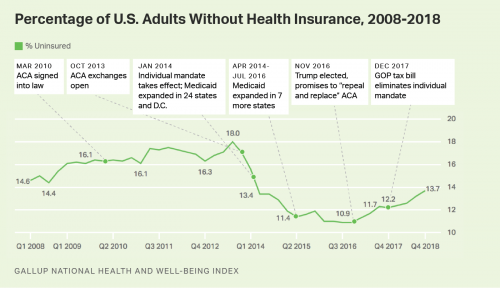 President Trump is paying particular attention to our care issue, but not in a helpful way.

The Trump administration is reportedly planning to intensify its assault on Medicaid by granting certain states permission to convert federal funding for the program into block grants, a move critics slammed as a cruel and likely illegal attack on vulnerable people.

Politico reported Thursday that the plan, which could be finalized as early as next week, would allow the 37 states that expanded Medicaid under the Affordable Care Act to seek waivers to convert funding into fixed sums that could limit states' flexibility to increase spending in response to public need.

Block-granting Medicaid is a longtime Republican goal dating back at least to the Reagan administration. The Trump administration's proposal has been in the works for over a year.
Money is fungible. Medicaid funding will be used to pay for other programs or even to finance tax cuts. Block grants are just a Republican trick to slash spending without appearing to do so. https://t.co/m7o44SADTE

— Bruce Bartlett (@BruceBartlett) January 23, 2020
Forty-three percent of Medicaid enrollees are children. The health care of millions is under attack.
The Democrats are talking about Medicare. The GOP and moderate Dems still talk about the ACA.
But for right now it's the assault on Medicaid that is the biggest healh care issue.