Marijuana won big
Submitted by gjohnsit on Thu, 11/10/2016 - 3:03pm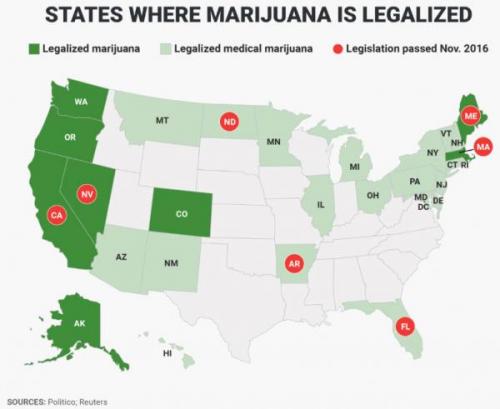 Not everything on election night was right-wing and reactionary.
Pot legalization is now mainstream.

A bevy of state ballot measures passed this week reveal it's only a matter of time before legalized marijuana use is the law of the land in the U.S. Investors are already finding ways to buy into it.

Four states voted on Tuesday to legalize recreational pot use, while four others approved marijuana for medicinal purposes. That brings the number of Americans living in states where recreational marijuana is legal up to 20 percent of the U.S. population. That percentage rises to 58 percent and 66 percent of the U.S. population when counting states where medical marijuana is legal and where states have decriminalized the drug, respectively.
Federal legalization of recreational marijuana use is probably not around the corner. But that's almost beside the point. States are following their own course, and will likely be even more emboldened once states-rights advocates move into the White House, the Senate, and the House of Representatives.

It also doesn't hurt that President-elect Donald Trump has touted his support of medical marijuana -- although his constantly shifting views on just about everything, along with Vice President-elect Mike Pence's opposition to marijuana, cloud that stance. Perhaps that's why a Bloomberg Intelligence index of 32 public companies involved in cannabis-related products fell 7 percent on Tuesday.

Still, despite that drop -- which was concentrated in three pharma companies -- the index is up 181 percent year-to-date.

For a breakdown on what the new laws mean, look here.
In states where medical marijuana laws have been on the books for some years, the number of patients on prescription painkillers has dropped considerably when compared to states with marijuana prohibition laws still in place.