The many crimes of Jeremy Corbyn
Submitted by gjohnsit on Thu, 08/23/2018 - 6:17pm
It's difficult to say for sure just how evil the UK Labour leader is, but the British news media will try anyway. One thing is for certain, if you hate the political and media establishment then Jeremy Corbyn is your man.
Early on, Corbyn was a terrorist. Proof of this claim is the unforgivable sin of not wanting to bomb Syria.

"You should not be walking through the lobbies with Jeremy Corbyn and a bunch of terrorist sympathisers," the prime minister reportedly told the committee.
Then Corbyn was a dirty, commie spy and traitor.

Last week Ben Bradley was forced to apologise for saying that Corbyn was a traitor and leaked information to Soviet spies: 'I accept that my statement was wholly untrue and false', he said.

The Conservative MP said on his twitter that Corbyn was guilty of 'selling British secrets' to 'communists'. This ridiculous slur, however, was not started by Mr Bradley and he was not the only one spreading these false accusations. Publications like The Sun, The Mail and The Telegraph, all printed articles accusing Corbyn of cooperating with a spy.
As a designer, if someone said to me, make Jeremy Corbyn look Russian - this is probably what I would have done.

— nickpotgieter (@nickpotgieter) May 13, 2018
But for some unimaginable reason, a significant percentage of the British public didn't reject this commie, traitor, jihadist terrorist.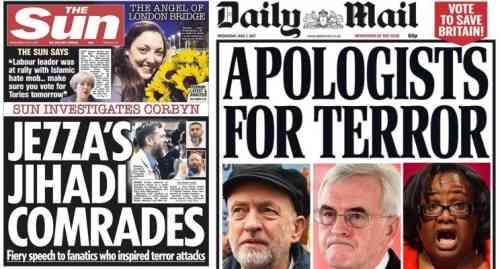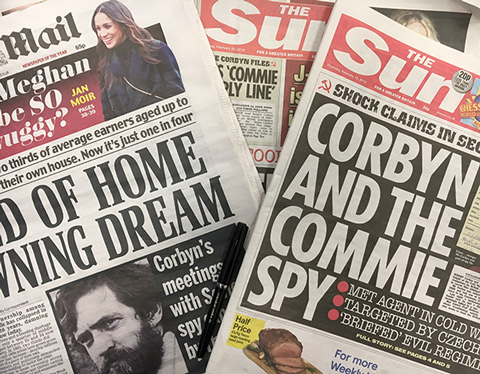 because the British public refused to take a hint, the media changed tactics.
Corbyn became an anti-semite.

Oh no, look how antisemitic he is NOW. It turns out Corbyn sat on a platform with a Jewish Holocaust survivor, who compared Israel's behaviour to that of the Third Reich. Corbyn says he disagrees with him, but that's not enough, he should have decked the twat. The fact that Corbyn didn't even yell abuse at him proves he's antisemitic.

Because this man, Hajo Meyer, said that having been through his unimaginable trauma, he couldn't bear to see appalling acts carried out in the name of the Israeli state, and this seems to have led him to conclusions that aren't accurate. Maybe we should cut the bloke some slack, what with him having been at Auschwitz. But that would make you an ANTISEMITE, because if you care about Jews you tell Holocaust survivors: "We've all had problems in life, mate, now shut your mouth and get your facts straight."
I'll tell you what, the general public is going to be utterly confused that Corbyn is now being criticised for spending time with Jews.

— Alex Nunns (@alexnunns) April 2, 2018
The anti-semitic smear has gained enough traction that it has jumped to America.
The British news media seemed to have decided that the anti-semitic smear was the winner, because now the entire UK Labour Party is teaming with Jew haters, apparently.

So many aspects of this coverage are disturbing: the widespread assumption among TV hosts and commentators that anti-semitism is a problem exclusive to the Labour Party (polling suggests it is clearly not); the alarming paucity of any evidence or statistics, so that the sentence "anti-Semitism in the Labour Party", repeated ad nauseam, becomes its own self-generating fact; the frankly ridiculous allegations of anti-Semitism levelled at the leader Jeremy Corbyn himself (Alan Sugar, one of the most famous faces in British business, tweeted a photo of the Labour leader sitting next to Hitler);
The hatred of Alan Sugar and the British business community bring us to Corbyn's ultimate crime, the one accusation against him that happens to be true - Corbyn is an anti-war socialist.

The possibility of a Labour government under Jeremy Corbyn is close behind Brexit as a perceived threat to business, according to a poll of UK executives published on Thursday.

Nearly one in three believes that a Labour-led government will be in power within the next five years, according to research by BritainThinks, a polling firm, for business lobbying group London First. A majority — 69 per cent — think a general election will occur before the anticipated date of May 2022.
Corbyn's not-being-business-and-war-friendly crime cannot be tolerated.
So if 75% of press coverage misrepresents Jeremy Corbyn, well, so be it.
If the anti-semitic smears must rely entirely on well-known political opponents of Corbyn, then so be it.
If the press must falsely declare a decline in Labour, then so be it.
Media narrative seems to be about 'peak Corbyn' and a terrible night for Labour...actual results show LP is up almost 40 seats on 2014's very high baseline - very clear why so many people turning to alt media. pic.twitter.com/A3cxleDA4O

— Jimi (@Jimi_MVM) May 4, 2018
So not only is Labour now "Britain's richest party", but since Corbyn was elected as Labour leader in 2015, membership has grown from 190,000 Labour members to 552,000. It's anticipated this may now be higher, but new figures won't be released until the party conference in September.

The news is truly grim for the Tories. Not only is it trailing behind in terms of income and members, but part of Corbyn's success has been activating support from younger voters.
The amount of smears and biased reporting the BBC has peddled on Jeremy Corbyn is astonishing. Having said that, the BBC have failed. Every time BBC smear Corbyn, Labour memberships increase and Corbyn does well in polls.

— Nadeem Ahmed (@Muqadaam) August 9, 2018
The British news media is prepared to do whatever it takes to keep Jeremy Corbyn and Labour from winning the next election. Journalistic standards will be sacrificed for this sacred cause.