Life is good on Wall Street
Submitted by

gjohnsit

on Fri, 07/14/2017 - 10:14pm
Do you want to see a headline that'll really piss you off?
I'm not talking about a Trump tweet, but something that actually matters.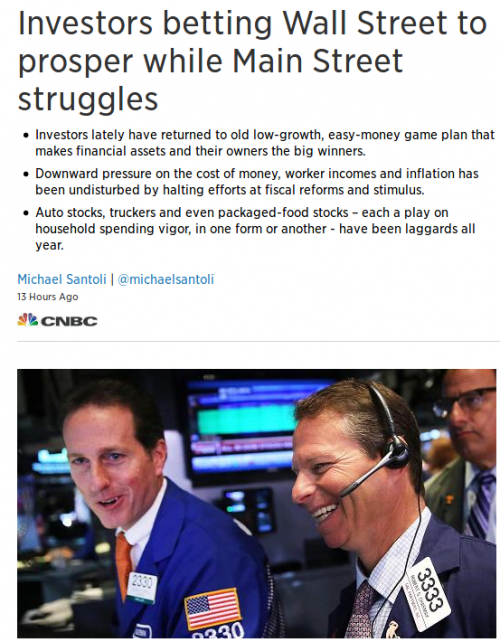 The markets are back to betting on Wall Street over Main Street.
...But does the move need to be a zero-sum game, with Main Street necessarily struggling in proportion to Wall Street celebration?
The answer to that question appears to be "yes".
For proof of that, see the recent "financial reforms" coming out of the White House.

The review calls for weakening many of the law's central provisions and offers no alternatives. The rollbacks include loosening restrictions on bank traders, easing up on annual stress tests of a bank's ability to withstand financial shocks, and advising regulators to rethink capital levels that big banks find onerous but that should be higher to make sure banks can absorb losses without bailouts.
The review also calls for changes in the financing and management of the Consumer Financial Protection Bureau that would reduce its independence and effectiveness. The bureau is the only federal agency with the sole purpose of protecting Americans in their dealings with lenders. Since 2011, it has returned $12 billion to millions of people — money that would have enriched lenders through excessive loan fees, predatory mortgages, deceptive student loan terms, discriminatory auto loans and abusive debt collection.
The new proposals will bolster the profitability of banks, at least in the short run, because riskier products and practices generate higher returns.
Oh goody. Wall Street banks just aren't profitable enough these days.
Because the Obama Administration was Just. Too. Hard. on Wall Street.
Take for instance JP Morgan Chase.

JPMorgan earned $26.5 billion in profit over the past 12 months, the most ever by any major U.S. bank. While trading results reported Friday were worse than analysts' estimated, second-quarter earnings set a record.
The most ever! JPM's profits alone is roughly equal to the GDP of El Salvador or Estonia.
Now think about that for a moment.
Wall Street banks aren't lending money.
Wall Street banks aren't even doing any trading.
Wall Street banks aren't even hiring anyone.
Thus Wall Street is not providing any beneficial services to the general economy.
But they are making money hand-over-fist for a very select group of sociopaths, at the expense of 90% of the population.
So let's all focus on Trump's tweets about the media.