Legal marijuana is a real problem for Mexican drug cartels
Submitted by

gjohnsit

on Fri, 10/19/2018 - 4:38pm
It's impossible to say exactly how much drugs the cartels are smuggling into the U.S., but drug seizures are a good proxy.
The parallels are clear: more legalization in the U.S. equals less pot getting smuggled into the U.S.
Now cynics will say that the cartels will simply shift to other drugs, but that would be fake news.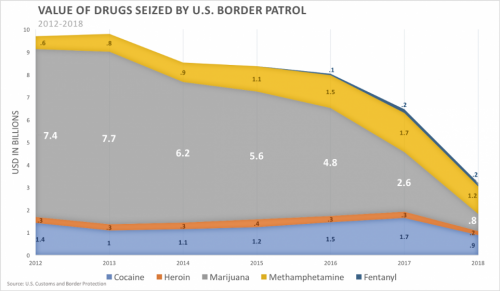 That's a whole lot of money that the cartels are no longer collecting.
But it doesn't end there.

Mexico's President-elect Andres Manuel Lopez Obrador said on Sunday that he would consider legalizing certain drugs as part of a broader strategy to fight poverty and crime.
Speaking in the state of Zacatecas, Lopez Obrador said that a recent proposal from the country's defense minister, who backed legalization of opium for medicinal use, was important and that he would not rule out anything.
Even opium! That would be a very bold step.
It's similar to what Bolivia did more than a decade ago when they legalized coca production.

According to the agency's annual survey of Bolivia's coca sector, published in July, the country's area of production dropped slightly in 2015 to 20,200 hectares. That's the lowest level since the agency began monitoring Bolivia's coca harvest in 2003 and roughly a third down from the total during the DEA's last year in Bolivia.
As for Mexico, it decriminalized possession of marijuana in 2009. It also legalized medical marijuana, but created no legal structure for it to operate.