The latest craziness on Wall Street
Submitted by gjohnsit on Mon, 10/08/2018 - 12:46pm
Things always get nutty late in a credit cycle, when overconfidence reaches irrational levels. This time is no different.
But that doesn't mean that the craziness looks like the last time.
Here are some good examples of what to look for when the next crisis hits.
IPO's

According to a new report by the Wall Street Journal, a record number, or 83% of US listed IPOs over the first three quarters of 2018, were companies that lost money in the 12 month prior to their going public.
According to the WSJ, this is the highest proportion on record dating back to 1980.

Not only that, but investors who have been buying these money-losing companies have been rewarded. Stocks of companies that lose money and list in the United States this year are up an average of 36% from their IPO price. This actually outperformed the return for IPO stocks that are posting positive earnings, which came in at 32%. Both beat the S&P 500, which has returned 9% over the same course of time.
Zombie debt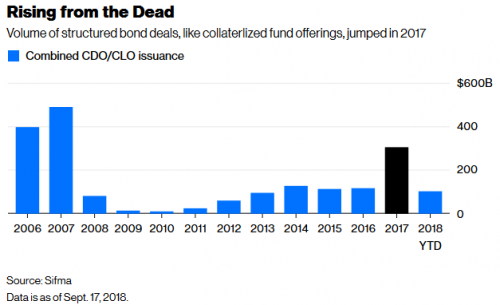 Consider Wall Street's latest financial Frankenstein of a bad idea, collateralized fund obligations. Perhaps a better monster metaphor would be zombies, because these securities are the sort of terrible concoction that rise out of the Wall Street swamp and don't seem to die. Collateralized fund obligations, or CFOs, were first given life in the early 2000s, but the market for them has mostly been dormant since the financial crisis. It has come back only recently.
...The biggest problem is that CFOs appear to transform equity investments into bonds, which are assumed to have much less risk than stocks. Structure and ordering of bonds can remove some of the extra risk and volatility that goes along with equities, but it can't eliminate it. What it does is concentrate the risk somewhere until it breaks down the door of the closet bankers thought they had locked. That's what happened with subprime loans during financial crisis.
That's all very interesting, but the real worrying concentration of risk on Wall Street lies in the corporate bond market.

Chief financial officers have been borrowing as much as they can get away with without their debt being classed as junk, because the move to junk leads to sharply higher borrowing costs. The attention paid to that rating boundary means the usual danger of leverage comes with an extra risk: the buildup of BBB bonds could mean even more downgrades to junk in the next recession than usual.
...The scale of the debt at risk of downgrade to junk is already frighteningly high, despite decent economic growth. Hans Lorenzen, a credit strategist at Citigroup, calculates that just the weakest BBB-rated bonds with a negative outlook or on review for downgrade, plus those where the issuer has other junk-rated bonds, amount to about half the existing size of the $1 trillion U.S. junk market.
More than $500 billion of these BBB-rated bonds are just one downgrade away from being junk, according to Fitch Ratings.
So why does this matter? Because a 37-year long bull market in bonds has come to an end.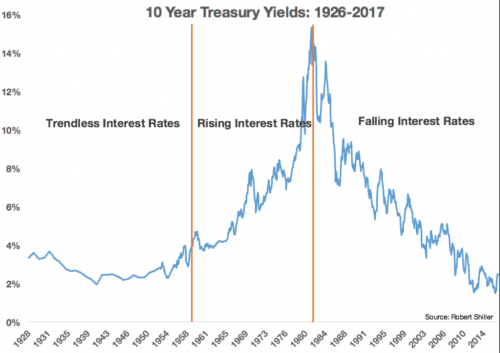 Interest rates had fallen for 36 year.
Let's put that into perspective.

We're currently living through the second longest bond bull market in recorded history, and the longest since the 16th century, according to a new research paper from the Bank of England.
..."The average length of bond bull markets stands at 25.8 years, and the range falls between 61 years (1451-1511) and 12 years (1718-1729). Our present real rate bond bull market, at 34 years, is already the second longest ever recorded," Schmelzing writes.
Interest rates have fallen for so long that last year they reached their lowest levels in 5,000 years of recorded civilization.
When you have to go back to the ice age to find lower interest rates, you know that they can't fall much further.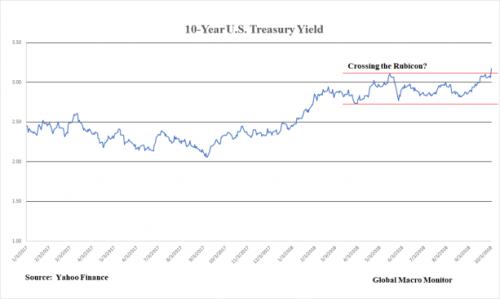 Sure enough, the markets are slowly coming to grips with this new global reality.

Global bonds are hitting fresh milestones of misery.

Strong U.S. data, a tighter-than-expected monetary trajectory, rising commodity prices and brewing wage pressures are conspiring to push Treasury yields to cycle-highs, hitting money managers of all stripes.

The value of the Bloomberg Barclays Multiverse Index, which captures investment-grade and high-yield securities around the world, slumped by $916 billion last week, the most since the aftermath of Donald Trump's election victory in November 2016.

American high-grade obligations are down 2.53 percent in 2018 -- a Bloomberg Barclays index tracking the debt has dropped in just three years since 1976.

"Bond investors have rarely seen losses like this over the past 40+ years," Ben Carlson, director of institutional asset management at Ritholtz Wealth Management, wrote in a blog post. "Any further moves higher in rates could lead to the worst year since 1976 in terms of overall bond returns."

There are no traders left on Wall Street that even know how to trade a bear market in bonds. I'd bet the algorithms don't know how either.