Land Of The Free and other myths
Submitted by gjohnsit on Sat, 10/21/2017 - 1:14pm
We are in the Land Of The Free.
How do I know that? It's in the song.
Just look at all the flags, and lapel pins, and just ask any conservative. They'll tell you this place is free.
There's just one problem: it's all bullshit.
Americans a) don't know what freedom is, and b) want no part of actually being free.
I'm going to break this down one civil right at a time.
Americans know literally nothing about the Constitution

More than one in three people (37%) could not name a single right protected by the First Amendment. THE FIRST AMENDMENT.
* One in three (33%) can't name any branch of government. None. Not even one.
That level of complete ignorance can't be blamed on the schools. That's just a bunch of ignorant, lazy people who don't give a fuck.
When confronted with the facts, people reject liberty.

In a finding that shocked some observers, a new poll says that barely half of Americans - just 51 percent - would vote for passage of the U.S. Constitution if the same document approved over two centuries ago were presented in ballot form today.
If you are thinking "At least it's a majority", just wait until we break it down by individual rights.
A third of people would reject the entire 1st Amendment.

In a survey released today by the Newseum Institute, 34% of Americans say the First Amendment goes too far in the rights it guarantees
It gets worse when you get to specific examples.

According to the topline poll results (to which I received advance access), 72 percent of Republicans would support making it illegal for an American to burn or desecrate the flag. A little more than half of Republicans would punish the desecrators by stripping them of their U.S. citizenship, something Donald Trump suggested (to great and deserved indignation) a few weeks after he won the election last November.
Most GOPers recognize, at least in theory, that disfavored speech should still be protected: Around seven in 10 agree with the statement that "people should be allowed to express unpopular opinions in public, even those that are deeply offensive to other people," compared to less than five in 10 Democrats. Nonetheless, 36 percent of Republicans would support prohibiting offensive public statements aimed at the police, and the same number would ban such comments aimed at the military. By comparison, just 24 percent would outlaw offensive speech aimed at gays, lesbians, and transgender people.
So Republicans agree in the principle of free speech, but not in practice.
That's called cognitive dissonance.
Meanwhile, Democrats don't even agree with free speech in theory, especially millennials.
It doesn't stop there. Republicans don't like other parts of the 1st Amendment.

Perhaps most troublingly, 50 percent of Republicans say the press in America has too much freedom to do what it wants.
Liberals are no better.

Fully half of Democrats think that "government should prevent people from engaging in hate speech against certain groups in public." Some 53 percent say that defending someone else's right "to say racist things" is just as condemnable as "holding racist views yourself."
Republicans don't have much use for freedom of religion either.

When asked if they supported "establishing Christianity as the national religion," 57 percent of the Republicans surveyed told Public Policy Polling (PPP) that they were in favor. Three in ten opposed turning the US into a theocracy, while 13 percent were unsure.
Republicans don't have much use for freedom of assembly either.
That's just the 1st Amendment.
Now let's look at the 4th.

Currently 62% say it is more important for the federal government to investigate possible terrorist threats, even if that intrudes on personal privacy. Just 34% say it is more important for the government not to intrude on personal privacy, even if that limits its ability to investigate possible terrorist threats.
These opinions have changed little since an ABC News/Washington Post survey in January 2006. Currently, there are only modest partisan differences in these opinions: 69% of Democrats say it is more important for the government to investigate terrorist threats, even at the expense of personal privacy, as do 62% of Republicans and 59% of independents
If you don't like the government spying on you, you are in the minority, especially if you are a Democrat.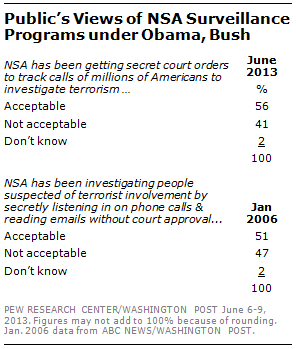 Now let's look at the 8th Amendment.

Sixty-three percent of Americans think that torturing suspected terrorists can be a justifiable way to get information, according to the Reuters/Ipsos results. A quarter of respondents think it's "often" justified, whereas nearly two-fifths say it's "sometimes" justified.
Thirty-six percent of respondents, however, say that torture is "rarely" or "never" a justified interrogation method, with 21 percent saying "rarely" and 15 percent saying "never."
Partisanship has some influence on respondents' answers. Eighty-two percent of Republicans condone the use of torture, compared to 53 percent of Democrats.
Republicans love, love, love them some torture, but most Democrats do too.
Torturing for confessions is also covered in the 5th Amendment.

First, the Rasmussen poll, conducted nationally:
Fifty-one percent (51%) of U.S. voters oppose the Obama administration's decision to try the confessed chief planner of the 9/11 attacks and other suspected terrorists in a civilian court in New York City. A new Rasmussen Reports national telephone survey finds that just 29% of voters favor the president's decision not to try the suspects by military tribunal at the Guantanamo Naval Base in Cuba where they are now imprisoned. Nineteen percent (19%) are not sure whether it was the right decision or not.
"Only 30% of Americans said suspected terrorists should have access to U.S. courts…"
People accused of being a terrorist should feel lucky if they only get imprisoned for the rest of their lives without due process, while being tortured. It could be worse.

Here are the poll results: Overall 83 percent of Americans approve of the use of "unmanned, 'drone' aircraft against terrorist suspects overseas," 59 percent strongly and 26 percent "somewhat." Of those who approve, 79 percent think the use of targeted killing against American citizens abroad who are suspected of terrorism is justified. The Washington Post's Greg Sargent, who takes a closer look at the internal numbers, finds that "Democrats approve of the drone strikes on American citizens by 58-33, and even liberals approve of them, 55-35."
Due process be damned, including if you are actually innocent.
The only freedom in the Bill of Rights that Americans support in practice is the one about guns. Why do you need a gun?
To defend your freedom! What freedom is that?
The freedom to carry a gun apparently.